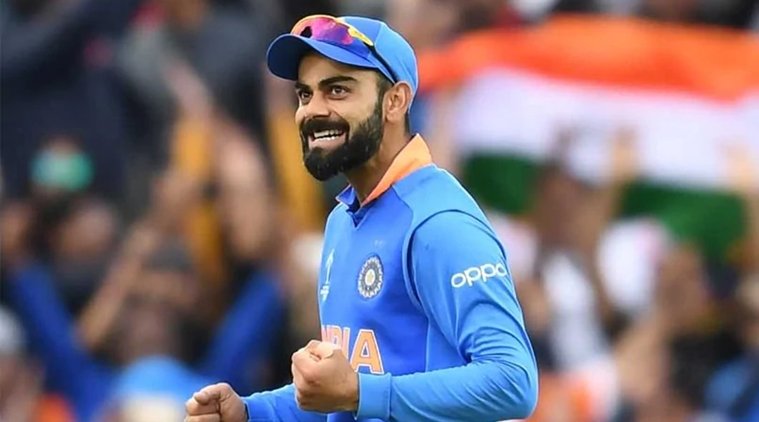 It is seldom that we don't see a sportsperson without a tattoo these days. The expensive inking of their favourite names, idols, deities, symbols or signs is often found on different body parts of the players, most of which are revealed for the world to take notice. A number of players in the Indian cricket team have a fascination for tattoos, one of them being the captain himself. Virat Kohli has a staggering 11 tattoos on the different parts of his body, showing his inclination towards getting his favourites inked on his body.
In the following lines, we will have a look at the 11 tattoos of the skipper of the Indian team and what do they stand for.
1. GOD'S EYE Tattoo
He has this tattoo on his left shoulder. According to Virat Kohli, "I call it God's eye. So, basically, the all-seeing eye. That everything that's happening is being watched and there's someone always keeping a count of everything that you do. So that makes you feel connected in a way and also, that makes you understand the essence of life and what we need to do as human beings and what our eventual goal is."
2. Japanese Samurai Tattoo
This tattoo, according to the Indian skipper, provides him with a deeper sense of discipline, loyalty and mutual respect. The Samurais are the warriors from pre-modern era in Japan and are known for their unique fighting skills and disciplined life style. Virat has it tattooed on his upper left arm.
3. Virat Kohli "175" Tattoo
This number, which is tattooed on his left arm, indicates the number of his ODI cap.
4. "269" Tattoo
This number is tattooed on his upper left hand and is the number of his Test cap. Speaking about these numbers, Virat said, "These numbers will always remain with me because when you look back at the charts 200 years from now, in front of these numbers, there will be my name. These will always be special numbers and hence I decided to get them."
Also Read: Which Masterstrokes made CSK IPL Champions
5. Mother's Name Tattoo
The name of his mother, Saroj, is inscribed right beside the ODI cap number on his left hand.
6. Father's Name Tattoo
The name of his deceased father, Prem, is inked on his left hand as well. Virat has been supported by both his parents in his struggle to become one of the best cricketers of all time and these tattoos are a tribute to them.
7. Lord Shiva Tattoo
Virat, who is a worshipper of Lord Shiva, has this tattoo on his left forearm.
Also Read: Three Indian batsmen who batted on all five days of a cricket match
8. Monastery Tattoo
Monasteries are symbols of peace and power. Virat has this one inscribed on the left side of his shoulder.
9. Scorpio Tattoo
Virat, who is a Scorpio, has his zodiac sign inked on his right bicep.
10. OM Tattoo on Shoulder
This tattoo stands for peace and spiritualism. According to the Indian skipper, "I've started to understand that now… So, I have started to realize strongly that I'm meant to be where I am and this is not random."
Also read: Three Strangest Man of the Match Awards
11. Virat Kohli's Tribal Tattoo
Virat Kohli is a strong believer in the aggression on the pitch and this tattoo, which stands as a symbol of aggression, is a perfect fit for the Indian "Run Machine".