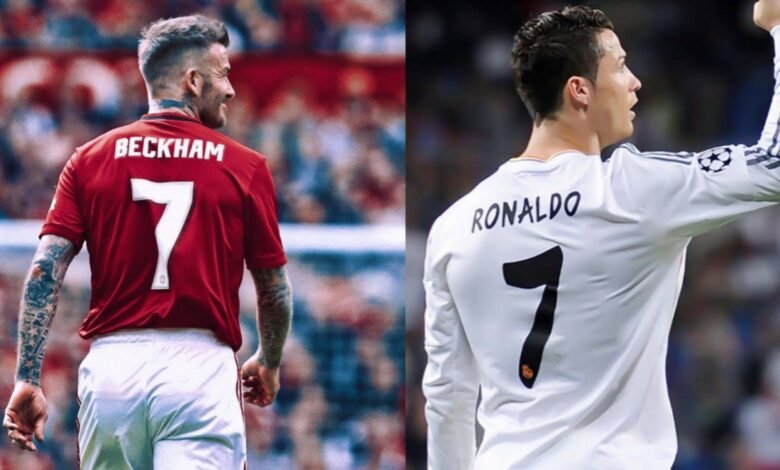 Jerseys give a special identity to footballers and help a footballer gain popularity at the grassroots level. Every football fan remembers the first jersey number they wore, as it is a special moment for many. Number 10 and Number 7 are the two jersey numbers that have gained widespread popularity among football fans. In this article, we will look at Five famous footballers who wore the number 7 jersey.
#5 Eric Cantona
Cantona was the face of United's renaissance in the 90s and helped them dominate the Premier League. An elegant striker of the ball, Cantona was a versatile footballer who primarily played as a striker. Every United fan of the '90s will remember Cantona's number 7 jersey and the upright shirt collar.
Cantona was the first inductee into the English football hall of fame. He was also named the best overseas player of the first 10 Premier League seasons in 2003. In 182 appearances for United, Cantona scored 82 goals and retired in 1997.
#4 Raul
Raul is one of the most loyal servants of Real Madrid and could be the future manager of Real Madrid. He broke into the first team as a teenager and soon became the strike partner for Fernando Morientes. Raul lifted three Champions League trophies in his career and scored in the 2000 and 2002 Champions League finals.
Raul was also capable of playing as a second striker, as demonstrated during Ronaldo Nazario's tenure at Real Madrid. Raul passed on the number 7 jersey to Cristiano Ronaldo in 2010 and departed to Schalke. Raul currently manages Real Madrid Castilla and is still a hugely popular figure among Madridistas.
#3 Luis Figo
Figo played for both Barcelona and Real Madrid in his career and was the captain of the Portugal team that reached the EURO 2004 final. He started his career at Sporting CP and gradually became famous for his performances. Barcelona bought him in 1995, and he became a crowd favourite by the end of the decade.
A controversial transfer to Real Madrid derailed his relationship with Barcelona. He had a successful stint with Real Madrid and won the Champions League in 2002. He retired at Inter Milan after winning four successive Serie A titles.
#2 David Beckham
It is a shame that much of today's generation remembers Beckham as a model who was also a footballer. In reality, he was hugely popular among his teammates for his relentless work ethic and gave everything for the shirt. At Manchester United, he was a cult hero and his crossing has become the stuff of legend.
In 2003, he famously switched to Real Madrid and played a crucial role in Madrid's title victory in the 2006/07 season. He retired at PSG after a brief stint in MLS in which he gained immense popularity in the USA. He is currently the owner of Inter Miami and dreams of bringing Ronaldo and Messi to his club one day.
#1 Cristiano Ronaldo
The most prolific goalscorer in the history of football, Ronaldo is a certified legend whose exploits will be remembered fondly for generations to come. Starting his career at Sporting CP, Ronaldo transferred to United in 2003 after impressing the entire United team with his dribbling skills.
He had a slow start to his career at United, but things changed after the 2006 World Cup. He became the first and only PL player to win the Ballon d'Or in 2008. The name CR7 has now become synonymous with Ronaldo and also adds value to his brand.