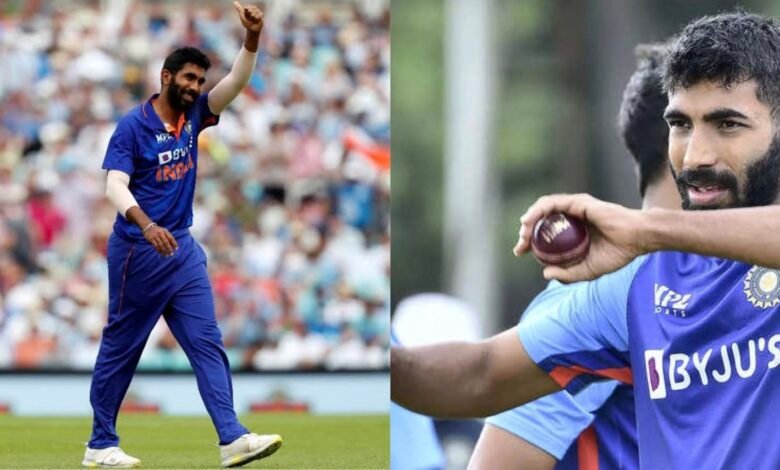 Fans on Twitter reacted after Dinesh Karthik revealed that Indian pacer Jasprit Bumrah is eyeing a comeback to the three-match T20I series against Ireland in August. They reacted hilariously to the development and said that they won't believe it until he returns to the field. 
Dinesh Karthik reveals Jasprit Bumrah is eyeing a comeback through the Ireland series
Jasprit Bumrah has been out of cricketing action since September 2022. He last played for India in a T20I against Australia and since then has missed all the games that India has played. 
Bumrah did the rounds when a fuss was created related to his selection in the ODI series against Sri Lanka. He originally was not named in the ODI series squad for Sri Lanka and then was added to the team as a late addition after the medical team deemed him fit to play. 
The pacer complained about stiffness in his back and governing body decided to keep Bumrah fresh for India's upcoming important assignments. It was expected that he would make a comeback in the Tests against Australia.
But this hasn't been the case as he was not named in the squad for the last two Tests and the ODI series against Australia. The ace pacer missed the IPL 2023 along with the ongoing WTC Final. 
There was no clarity about when Jasprit Bumrah returned to cricket. But Dinesh Karthik, who is doing commentary during the ongoing ICC World Test Championship (WTC) Final provided a huge update on the return of the pacer spearhead Jasprit Bumrah to cricket. He said: "Bumrah is trying to come back through the Ireland T20 series".
Dinesh Karthik in the commentary mentioned "Bumrah is trying to come back through Ireland T20 series".

Good news for Team India for the World Cup. pic.twitter.com/EuHS2d3odx

— Johns. (@CricCrazyJohns) June 10, 2023
With World Cup around the corner, it'll be a massive boost for Team India. 
Twitter reacts as Dinesh Karthik reveals Jasprit Bumrah is eyeing comeback through Ireland series
As Dinesh Karthik reveals Jasprit Bumrah is eyeing a comeback through the Ireland series, fans on Twitter reacted to it. They took a jibe at a pacer and said that he will be again injured. Here are some of the reactions: 
It will be so foolish to play him in inconsequential Ireland series ..Directly should play in Asia cup #indvaus https://t.co/45jJJWWQ1F

— Krish (@KrishK74) June 10, 2023
isnt this too early for comeback. he shouldnt be bowling till july end. looks like they are rushing him again😑🙄 https://t.co/6sFbg97bYc

— naq5 (@ntweet_55) June 10, 2023
I have an axe to grind with the memers, Bumrah was definitely one of India's most regular and consistent bowlers since his International debut in 2016, and had his workload managed well until last year where he's been U/A for almost a year to now, yet only… https://t.co/8PUEDtIxbo

— Ridwan  (@rid_aman) June 10, 2023
DK dumbo leaking things that are kept private . https://t.co/zlCNqEIYbh

— " (@KohlifiedGal) June 10, 2023
Need him in WC https://t.co/bhL98WToPk

— dK (@DarkKnightRised) June 10, 2023
No one cares about this fraud https://t.co/y5C9rbxBdF

— Arey Nanii💙 (@unknown_user26_) June 10, 2023
Yes we need bumrah https://t.co/RzqDR5Ej2w

— Thala veriyan😎😎😎 (@Thala777veriyan) June 10, 2023
Yes goat https://t.co/mHNpuyiHkE

— HITMan 😎👑 (@HITMan78085103) June 10, 2023
I will believe it when I see it. https://t.co/IX7wPBCANT

— Prakhar. (@prkhrstopffs) June 10, 2023
Really a good news. https://t.co/OwLjhRRZgn

— RajeshRT (@RajJustP) June 10, 2023
Dekho Woh Aa Rha hai. https://t.co/aSsYacAwiM

— Girish Pawar (@PawarGirish05) June 10, 2023
Nobody cares

— akshat (@StanVirat) June 10, 2023
Btw, Bumrah was called for SL home series in early this year.

— DK (@CricCrazyDK) June 10, 2023
WC aate aate fir injured ho jayega.

— Kuptaan 🇮🇳 (@Kuptaan) June 10, 2023
I just doesn't want him playing any unnecessary games, just save him bubble wrap him for the ODI World Cup games later this year, without him we don't have another death bowler.

— Prantik (@Pran__07) June 10, 2023