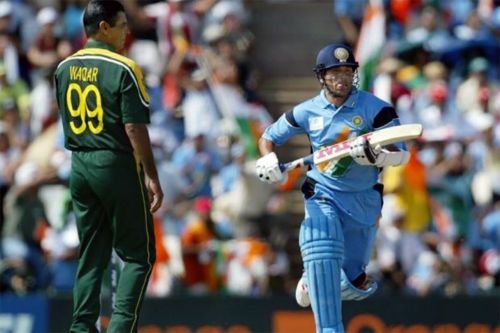 Sachin Tendulkar is someone who has earned the status of cricketing god in India. He is unarguably the greatest cricketer India has ever seen or probably the game of cricket has ever seen.
But, what's interesting is that Sachin is hugely admired by the Pakistani people as well, despite Pakistan being India's arch-rival in the game of cricket for many decades now.
Here are the 3 reasons why Sachin Tendulkar is popular in Pakistan:
1. Sachin Tendulkar debut
Sachin made his Test debut for India at the age of 16 against Pakistan in 1989 and Pakistan, at that time, had one of the fiercest attacks in the world. Given Sachin's age and lack of experience, a lot of people wrote him off despite his performances in the Indian domestic circuit.
However, in his very first Test series, Sachin showed why he was rated so highly in India as he faced the Pakistani attack with immense courage and grit.
Sachin scored a brilliant half-century in the second Test match of the series which really impressed the Pakistani people as they took note of the charismatic teenager and were awestruck.
2. Lack of batting role-models in Pakistan
Pakistan has always produced world-class fast bowlers, but they have lacked batting potential over the years. They have had batsmen who can be put in the category of world-class, but only a few of them excelled in both red ball and white ball cricket and none of them stayed at the top level for as long as Sachin.
Also Read: Why is Shahid Afridi underrated?
So while the Pakistanis have always been proud of their bowling talent, they have wished they would have had somebody like Sachin to pull off magical things with the bat as well.
3. Performances of Sachin Tendulkar in World Cups
Sachin has played two of his memorable ODI innings in the World Cup games against Pakistan, both of which resulted in Pakistan's defeat. One was in South Africa in the World Cup 2003 when Shoaib Akhtar was at his peak and was bowling really fast.
Everybody was anticipating a tough contest between Sachin and Akhtar, but Sachin smashed Akhtar to all corners in his very first over and eventually went on to score 98 runs off just 75 balls to win India the game.
And the second was in Mohali in the World Cup semi-final of 2011 where Sachin scored 85 runs and helped India post a par score on the board on a very tricky wicket. The score eventually proved to be enough for India to beat Pakistan and reach the final.