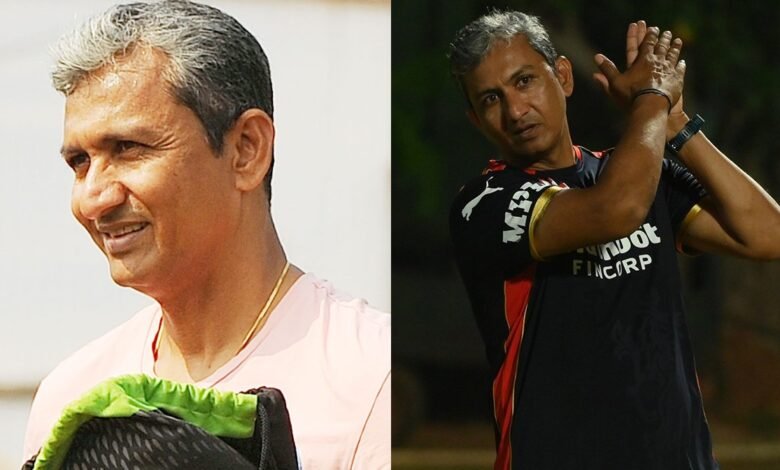 The former Indian opening batsman Sanjay Bangar has been named as the new head coach of Royal Challengers Bangalore (RCB) for the period of next two years. RCB's director of cricket, Mike Hesson, announced the appointment earlier today.
It was Simon Katich who was working as RCB's head coach for the last couple of seasons, but he withdrew himself from the second leg of the IPL which finished a month ago and the position was vacant since Katich's withdrawal.
Hesson himself had stood in as the head coach for the remainder of IPL 2021 when Katich withdrew, but the interviews were conducted after the completion of the IPL and although the other candidates were in the reckoning as well, it was Bangar who eventually got the nod.
Bangar was already a part of the coaching staff of RCB for the last season as the batting coach and he has got a lot of experience of working as a coach on the circuit. He has worked as the head coach of Kings XI Punjab (now Punjab Kings) and also the batting coach of the Indian national team.
RCB will also have to appoint a new captain before the next IPL season
This is the start of a new era for RCB now. Not only have they appointed a new head coach, they will soon be appointing a new captain as well, as Virat Kohli stepped down as captain at the conclusion of the last IPL.
RCB, most likely, will make a decision on the new captain after the mega auction as they will wait and see if they will be able to buy a good leadership option from the mega auction. As far as the current squad is concerned, Glenn Maxwell is the only player who seems to be a leadership option.
Meanwhile, the RCB fans have reacted to the appointment of Sanjay Bangar as the head coach. While some are happy and have backed him to do well, some are not too amused by the fact that the franchise is frequently changing head coaches. Here is how twitter reacted at Bangar's appointment –
2019 – Gary Kirsten
2020 – Simon Katich
2021 – Mike Hesson ( Second half)
2022 – Sanjay Bangar

What's the use of changing coaches so often lol https://t.co/vrAUkWqUzR

— ` (@FourOverthrows) November 9, 2021
Sanjay Bangar, head coach of RCB confirms that the talks about retention has started and Mike Hesson will continue as the director of cricket.

— Johns. (@CricCrazyJohns) November 9, 2021
Sanjay Bangar named as RCB head coach . He was head coach for Kings 11 punjab (punjab kings) year 2014 .

— Sai (@akakrcb6) November 9, 2021
How do sanjay bangar keep getting all these big jobs after playing 12 tests and 15 odis😂 pic.twitter.com/fzgPhFyYKD

— The Tragic Hero (@TheTragicHero1) November 9, 2021
Dude don't worry about Hesson. He is the Director and will be there.

Head coach implies Sanjay Bangar is replacing Simon Katich. https://t.co/fhBpfseiTW

— #KohVid Warrior (@wildcardgyan) November 9, 2021
Just in: ⁦@RCBTweets⁩ have appointed Sanjay Bangar as head coach. Mike Hesson will remain as director of cricket operations ⁦@DeccanHerald⁩ pic.twitter.com/0L8Z7JniwD

— Sidney Kiran (@Gunnersyd) November 9, 2021
Sanjay Bangar is a good choice. He is been calm and have worked very hard with the Indian Team. https://t.co/CR2n1XYHLq

— Rana | Please #Vaccinate💉 (@bladeit) November 9, 2021
Congratulations Sanjay Bangar, for being appointed as the new coach of RCB, Hope under your guidance #teamrcb will play very well and we will see the best team ❤ pic.twitter.com/lvoBJ5YsNt

— Nikhil Ranjan (@Nikkkkhil2) November 9, 2021
Sanjay Bangar appointed as @RCBTweets head coach, Mike Hesson to remain as Director of Cricket Operations.

A successful partnership at RCB continues 👌#IPL2022

— Prasen Moudgal (@Prasen_m4299) November 9, 2021
sanjay bangar bout to drop some bangers for rcb

— maelstrom (@originalmiks) November 9, 2021