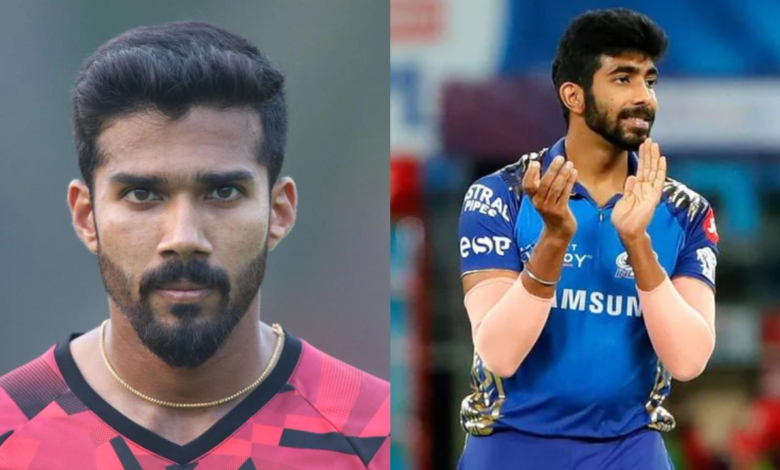 Mumbai Indians are the most successful team in the history of the Indian Premier League. They have won as many as five titles, more than any other franchise in the cash-rich IPL.
Mumbai Indians have turned out to be a formidable force in the lucrative competition under the captaincy of Rohit Sharma. It will be quite interesting to see how Mumbai Indians will approach the tournament this time around.
In the last edition, they messed up the plot as they not only failed to qualify for the playoffs but also finished at the bottom of the points table. Rohit Sharma and Co could win only four games and lost the rest of the 10 games in the league stage.
Sandeep Warrier replaces Jasprit Bumrah in Mumbai Indians
Jasprit Bumrah has been away from competitive action for a long time now. Earlier, he had to miss both the Asia Cup 2022 and the ICC T20 World Cup 2022 due to a back injury. Meanwhile, Sandeep Warrier has replaced Jasprit Bumrah in Mumbai Indians. For the record, Sandeep is a quality fast-medium bowler from Kerala.
Since the premier paceman was struggling with a recurring back injury, he underwent back surgery in New Zealand's Christchurch this month. It seems that he will require some time to recuperate.
Earlier, it was also confirmed that Jasprit Bumrah has been ruled out of the entire edition of the IPL for failing to fully recuperate from his back injury. A BCCI source, in the know of developments, told PTI that Bumrah is unlikely to make a comeback in the next 6 months, which means that he is out of the IPL action.
Jasprit Bumrah's absence is indeed a big blow to Mumbai Indians' title hopes. They were expecting Jofra Archer to combine with Jasprit Bumrah for a deadly pace attack. Unfortunately, that wasn't meant to be. Jofra Archer will be leading the bowling attack by example in the next season.
TBH good replacement he'll cook. I can bet on it https://t.co/0ZFDXCMuxZ

— T H E T R A N C E R 😷 (@TheTrancer10) March 31, 2023
It is Warrier, a surname 😁 .. probably you meant he could be the warrior for MI… LOL

— Ramkrishna Iyer (@KannanK51531500) March 31, 2023
Number 6 on the way pic.twitter.com/Q0VZcC2RhU

— Ronio 🐯🔥 (@Ronio45) March 31, 2023
But people were saying Bumrah avoiding international matches for country and will be fit for IPL because of money. 🫣

— Shrey Mishra (@SHREYMI07790454) March 31, 2023
Most perfect replacement ever

— LABUSHAME (@SMUDGE4549) March 31, 2023