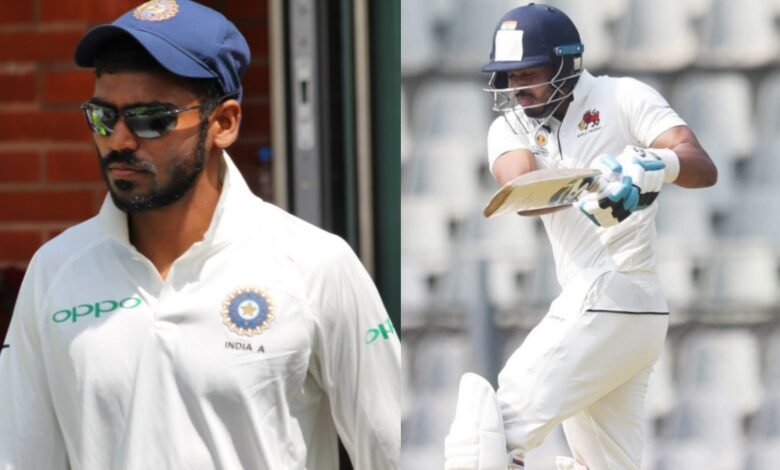 India's schedule is packed for the next year when it comes to Test match cricket. With the World Test Championship cycle going on, India is slated to face New Zealand, Sri Lanka and Australia at home, while they will travel to South Africa and Bangladesh to play away Tests before 2022. The squad is also in the era of transition, with a few spots up for grabs. Amidst this, we take a look at five Indian players who could earn a Test spot before 2022.
1) Shreyas Iyer
FC Stats: Matches – 54 || Runs – 4592 || Average – 52.18
Shreyas Iyer is one of the Indian players who could earn a Test spot before 2022. Both Cheteshwar Pujara and Ajinkya Rahane are looking out of sorts, and the management could contemplate replacing them. In terms of experience and age, Iyer seems to be the best pick to get into the Test team.
It is actually on the back of his performances in the Ranji Trophy that Iyer got noticed first. In the 2015-16 season, he made 1321 runs at an average of 73.38 and helped Mumbai win the title. Iyer also has the experience of leading the side. With a few Test series coming up at home, it is the right time to try out Iyer in the whites.
2) Suryakumar Yadav
FC Stats: Matches – 77 || Runs – 5326 || Average – 44.01
Similar to Shreyas Iyer, Suryakumar Yadav also caught the eye of many with his display in the Ranji Trophy. As a youngster, too, SKY showed remarkable skill and consistency. However, it was eventually as a limited-overs cricketer that he made his India debut.
Nevertheless, a red-ball debut is surely in the pipeline for him. The fact that he was drafted into the England Test squad as an injury replacement itself shows that the management has plans for him. SKY would be ideal to take up the No.5 slot as it would suit his style of play.
3) KS Bharat
FC Stats: Matches – 78 || Runs – 4283 || Average – 37.24
KS Bharat is also one of the Indian players who could earn a Test spot before 2022. Although Rishabh Pant's spot in Team India is not in danger, it would be wise to give the youngster competition for the role. Wriddhiman Saha does not offer the promise of being a long-term option and hence, KS Bharat seems to be the best bet.
The Andhra lad was part of the recent Test series in which Saha was ruled out due to an injury. Bharat is himself a technically proficient wicket-keeper and a reliable batsman in the middle-order. The 27-year-old has also got a triple-century in FC cricket to back his case.
4) Rahul Chahar
FC Stats: Matches – 17 || Wickets – 69 || Average – 28.62
India has many candidates in the spin department, but the management would be keen to have a leg-spin option. Kuldeep Yadav looks out of touch and hence, there could be a search for a new face. Having made his mark in T20Is, Rahul Chahar seems to be a reliable option.
In the first two tests of the home series against England in 2021, Rahul was one of the reserve players. His stats so far for Rajasthan in the Ranji Trophy show that the leggie is not a one-format cricketer. Moreover, he is just 22, and there is time for him to develop his skills. With a couple of series at home in the next few months, Rahul could actually make his Test debut for India.
5) Arzan Nagwaswalla
FC Stats: Matches – 16 || Wickets – 62 || Average – 22.53
Arzan Nagwaswalla is currently one of the standby players for Team India in the ongoing Test series against England. He had a terrific campaign in the previous Ranji season, which prompted his selection for the tour.
Just 23 years of age, Arzan is a promising left-arm pacer, and hence, he could overtake many in the queue solely due to the variety he offers. He is anyways a quality cricketer, and the selectors could prepare him for the future by giving his debut before 2022.