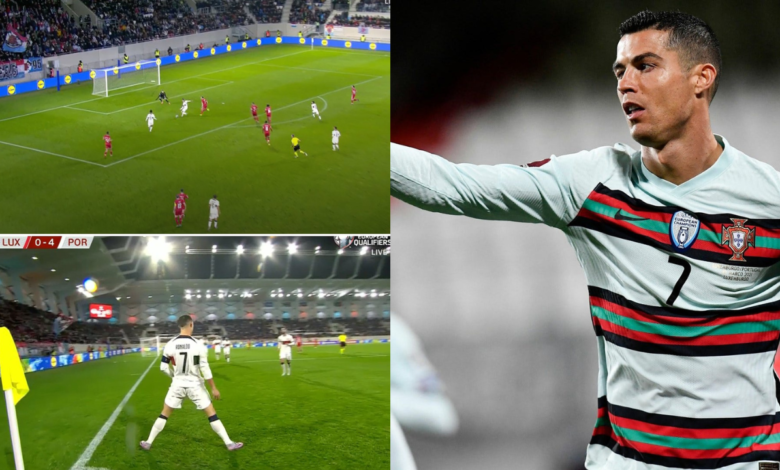 Portugal dominated their European Championship qualification match against Luxembourg on Sunday, and Cristiano Ronaldo capped off the rout with a beautiful, composed goal.
After becoming the most-capped player in men's football history in the Seleccao's last match against Liechtenstein, the Portuguese legend finished off a feed from Bruno Fernandes to make it 4-0 to Roberto Martinez's squad before halftime.
Ronaldo scored his second of the game shortly after the first goal, which came after a header by Nuno Mendes found Ronaldo unmarked in the six-yard box. In 199 games, the 38-year-old currently has 124 goals for Portugal.
Ronaldo will play for Al-Nassr in Saudi Arabia until the end of the season after the international encounter in Luxembourg, and then return to Euro 2024 qualifying action with Portugal in June against Bosnia and Herzegovina.
Luxembourg vs Portugal confirmed lineups
Luxembourg XI (3-4-1-2): Moris; Jans, Chanot, Gerson; M. Martins, C. Martins, Barreiro, Pinto; Thill; Sinani, G. Rodrigues
Portugal XI (3-5-2): Patricio, Danilo, Dias, A. Silva; Dalot, Bernardo, Palhinha, B. Fernandes, Mendes; Ronaldo, Félix
ALSO READ: "Leo is always AHEAD of CR7" – Twitter user posts an incredible freekick stat regarding Cristiano Ronaldo vs Lionel Messi
Twitter Reacts:
Consistently SIIIIIIIIIUUUUUUUUUING them. What a guy. https://t.co/ZeqMkRHQpv

— SITSO (@OfficialSitso) March 26, 2023
Update it. It's 12 goals now 😂🤣 https://t.co/1asnTGJ635

— ĀDØFÔ (@_adofo69) March 26, 2023
When he gets going, he is unstoppable. You can never write him off. #GOAT @Cristiano https://t.co/TYeZGfKbxX

— Mohammed Shehzad (@shehzad_23) March 26, 2023
Hat trick loading… https://t.co/zOXtiJf0TE

— Kaking (@Kakingkoykiks) March 26, 2023
Stat padding against Luxembourg 😭 https://t.co/Z4dAmQSG2c

— MagiTacti @ GBVS Rising (@MagiTacti) March 26, 2023
He Cannot stop 😤🐐 https://t.co/iSFYvFGfbR

— Rori Born 03 (@BornRori) March 26, 2023
He's untouchable 👑🐐 https://t.co/3H3H3v6YDC

— k🇧🇿 (@Nbaflores7) March 26, 2023
These are the people he can score against. Take him to the big stage and he chokes. Fraudulent man https://t.co/dEGQfEbzrM

— Sheikh Ibrahim Abass (@ViCktorr_) March 26, 2023
European qualifiers are a joke https://t.co/IgnJkBlRW4

— Alvi 𓅓 (@alvii786) March 26, 2023
He's the Monk 💯 🐐 in Football https://t.co/3oqIM5J5ki

— MK9077 (@mayowa_olakunle) March 26, 2023