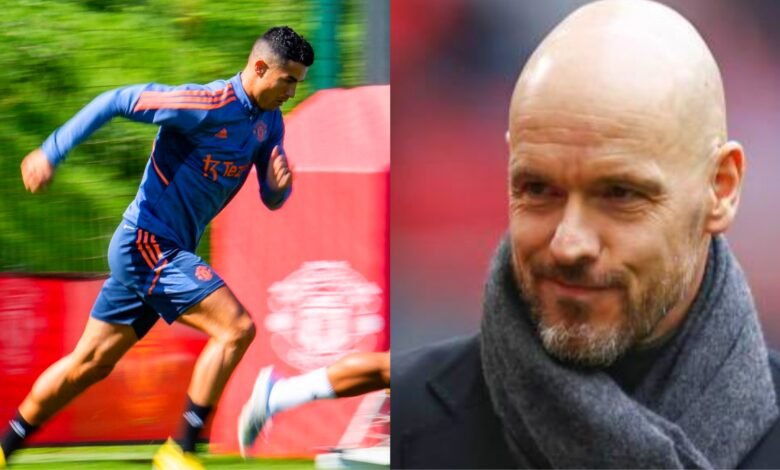 Ever since the season started, Manchester United has found themselves in a bit of a soup with a defeating on an opening day against Brighton. Despite renewed vitality in the second half after the introduction of Cristiano Ronaldo, things seemed bleak for the Devils.
In the transfer window, countless rumors rounded up the United camp stating that Cristiano Ronaldo wanted out as the Devils weren't a part of the Champions League. However, despite vehement efforts from their agent of Ronaldo to bag a transfer for the Portuguese legend, all of the demands met a cul-de-sac, considering Ronaldo's age.
With all said and done, Manchester United's new boss, Erik ten Hag stated that whatever rumors have been doing the rounds of Ronaldo leaving Old Trafford, he is treating them nothing better than flying canards that make no sense to him.
Here is what Ten Hag had to say about Cristiano Ronaldo
As the reporters clamored around Ten Hag regarding the possible move of Ronaldo away from the Theatre of Dreams, the Dutch preceptor quoted, "That is your assumption [that Ronaldo wants to leave] — that is not what he is telling me."
He would further add, "I deal with the players we have and we plan with him for this season and we are happy with him and we have to fit him into the team so he has to come at the right fitness levels so that he can do the job that we expect him to do. In every press conference, we already confirmed that he is in our plans. We plan with him so we also plan around him."
Ronaldo has been reintroduced to the squad after missing out on the preseason due to personal reasons. He was incorporated in the mix after the breather and ever since Ronaldo hit the field, the complexion changed totally with Manchester United pouring forward in numbers till the 80th minute before Brighton would pull off a decent job to contain the Red threat as they pushed the United front back,
United is currently linked with a move to Juventus midfielder, Adrien Rabiot and at the moment, the situation stands somewhat at an impasse. Ten Hag quoted that it is a very complicated relationship and somehow it will need a bit more time than usual to reach a positive end to the same.
Manchester United would be up against Brentford tonight as they will have the difficult task ahead of them that would need them to bag their opening points. However, as far as the line-up goes, Ten Hag has made sure that Ronaldo will be starting the contest.