A fantastic free-kick goal by Cristiano Ronaldo for Al Nassr showed once again what he is capable of. On Saturday, Ronaldo and his Al Nassr squad met Abha in the Saudi Professional League hoping to resurrect their championship hopes.
Abdel Fatah Adam scored for the visitors in the 26th minute, giving them a 1-0 advantage they would not give up before halftime. As Al Nassr's team seemed to be losing momentum in the second half, their star player came through.
With just ten minutes remaining to play, Ronaldo scored a fantastic free kick to pull his team even. The Abha goalie dove in dismay as Ronaldo's effort sailed past him and into the net. Anderson Talisca scored a penalty kick with just six minutes remaining to give Al Nassr a 2-1 lead.
At the end of the day, Al Nassr's 2-1 victory allowed them to cut the distance to league-leading Al Ittihad to just one point.
Cristiano Ronaldo scores an incredible free-kick against
Abha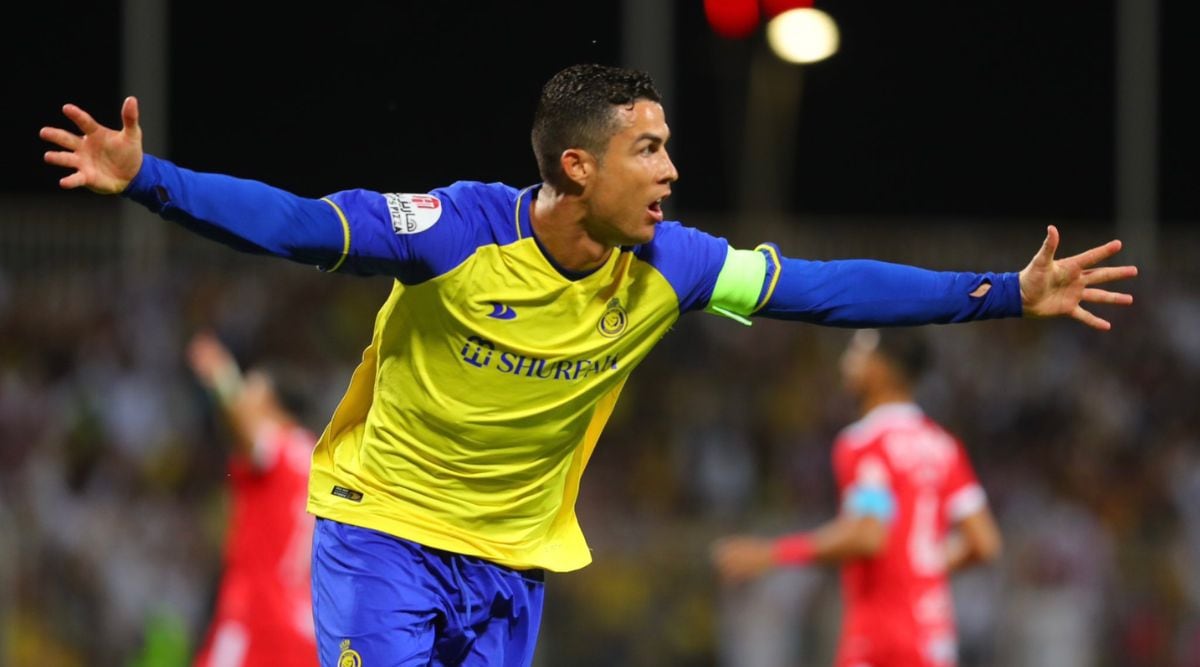 After the international break, Al Nassr will play Al Adalh in a Saudi Professional League match. Ronaldo will now put all of his energy into helping Portugal qualify for the Euro 2024 tournament.
In January, the 38-year-old made the move from Manchester United to Al-Nassr, moving from the Premier League to the Saudi Pro League. Although the five-time Ballon d'Or winner has been a scoring threat in Saudi Arabia (eight goals in seven games), he has not yet scored a goal from a direct free kick.
ALSO READ: Manchester United launch a '£143 million' operation to get 2 players from the same team
قووولولولولوولولووووولل رونالددددوو 1-1 pic.twitter.com/S4a4RwBXne

— ميديا عالم النصر (@GoalNFC) March 18, 2023
Ronaldo's record from direct free kicks isn't great, despite the fact that he has scored more than 50 goals in his career. His goals include iconic performances against Portsmouth and Spain.
Al Nassr (4-3-3): Nawaf Alaqidi (GK), Sultan Al-Ghanam, Alamri, Alvaro Gonzalez, Konan, Alsulaihem, Luiz Gustavo, Alkhaibari, Talisca, Ronaldo, Ghareeb
Abha (4-2-3-1): Devis Epassy (GK), Al Hamsal, Attouchi, Natiq, Al-Zori, Al Sudani, Saddiki, Adam, Bguir, Al-Salouli, Felipe Caicedo
Twitter Reacts:
38 years old still can play and be scorer. @Cristiano https://t.co/kLQN0u0Z9I

— Ray (@Azrai5637) March 18, 2023
No, he only scores tap ins 😅😅😅😅 https://t.co/rl9WchnDB9

— Chapters (@MubiruFranc) March 18, 2023
He's coming back strong 😤💪 https://t.co/jUEC0SKF3U

— TimilehinDC11 (@TimilehinDC11) March 18, 2023
Nah why we dey call him GOAT 🐐 https://t.co/5rDN1zv15R

— Fikky ⚈ (@fikky_ybnl) March 18, 2023
Man's still got it🐐 https://t.co/ypUKijoTma

— el padrino👺 (@manlikem0ha) March 18, 2023
8 billion attempts later https://t.co/Soc0zAgnuc

— Sthabi Mpashanga (@SthabiMpash) March 18, 2023
Reminded me when Allegri was talking about how at distance CR7 free kicks were better . https://t.co/NC12QUay0V

— MadrasKnight (@kryptonoid) March 18, 2023
Can your goat do this https://t.co/pW4T3bBybB

— Mucheru (@Mucheru28) March 18, 2023
Cristiano Ronaldo gave Talisca the penalty to boost his confidence coming back from the injury

The actual humble GOAT 🐐 https://t.co/RpXbE0q37p

— Barça forever (@Always__barca__) March 18, 2023
This is not real….they just want him to entertain them https://t.co/qdSL6qbFJt

— Samuel_smz (@oluwaseyi_Smz) March 18, 2023