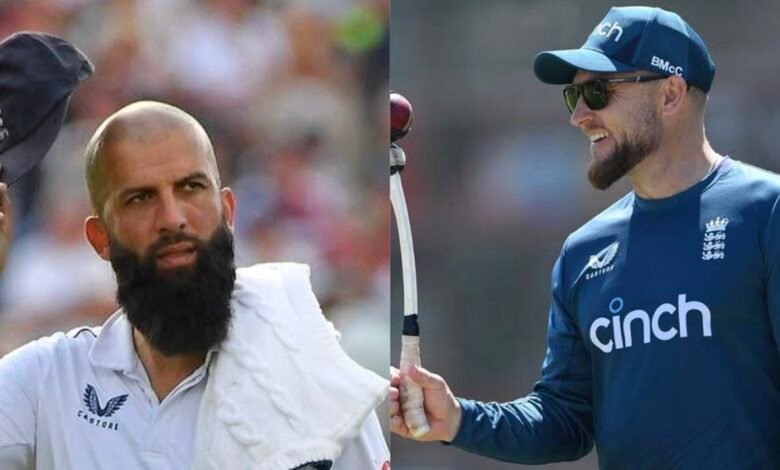 England all-rounder Moeen Ali has turned down head coach Brendon McCullum's huge request for the interest of the team. The southpaw has turned down his proposal to play the five-Test series against India in January-February next year.
Moeen Ali comes out of retirement to play for England in the Ashes 2023
English all-rounder Moeen Ali recently came back from retirement. The injury to Jack Leach ahead of the Ashes 2023 made the ECB along with skipper Ben Stokes and coach Brendon McCullum approach him for the Ashes and he gave a positive response.
Moeen Ali was straightway included into the team for the first game and he had a decent impact on the match. He missed the second game due to injury but in the last three games, he had a massive impact and was amongst the reasons why England levelled the series after being 2-0 down.
Moeen Ali made a decent contribution with the bat as after Ollie Pope was ruled out due to injury he batted at No.3 and played a vital role. In the 4 games, he scored 180 runs but he made a bigger impact with the ball as he picked up 9 wickets. His spell on the last day of the game changes the match in England's favour.
After Ashes 2023 concluded, he called time on his career and confirmed that he won't be playing anymore for England in the longest format of the game. In 68 Tests for England, Moeen Ali scored over 3000 runs and picked up over 200 wickets.
Moeen Ali denies Brendon McCullum's request for this huge interest of England's Team
With Moeen Ali deciding to call time on his career, he was urged by skipper Brendon McCullum to continue playing Tests and travel to India for the upcoming Test series. But he denied it and said that he was done and will not go to India. He said:
"They knew from the start. Especially when those Indian venues came out! Baz asked me again when I had my day off on the second day. I said no. I'm not going [to India]. There's no way I'm going. That's me done. It's nice to finish like this and be part of an amazing day."
England will be travelling to India for the five-Test series to be played from 25th January to 11th March.