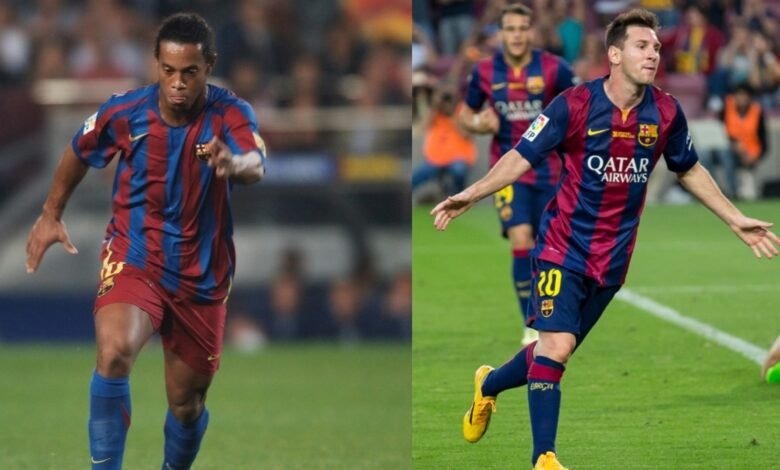 There are a few clubs that are synonymous with glory and have been a long-serving destination for the sport. Call it Cosmos or Manchester United or Real Madrid or Barcelona, their prestigious antiquity will make you fall in love with those contingencies alongside the fact that you will become a life-long fan.
Given the aforementioned names, if there is one club that has been in the limelight, and it is for all the wrong reasons, that is FC Barcelona. Despite bragging about a historic past, the team is currently in the middle of severe doldrums with their beacon of salvation, Lionel Messi, choosing to step down from the mantle after failed transfer talks.
Messi was one of their longest-serving mainstays, who have been with the club for a staggering 21 years, spawning an era that can only sound like a myth for the generations to come. The Argentine artist gave birth to a legacy so remarkable that it will stay untouched for a while now, as it needs a Messi from an alternate dimension to set things right.
In this story, we will take a look at five icons of Barcelona who surpassed every bit of expectations those were strapped on them and created records that would forever immortalize them in our hearts.
5. Johan Cryuff
The man who changed the face of Dutch football once and for all, Johan Cryuff was deemed as the best footballer in the world in his time. He landed at Camp Nou in August 1973 after his erstwhile club, Ajax, failed to cop his signature. He created an instant impact for the Catalans, as his explosive display helped them to win the La Liga in 1973-74, after a staggering 14 years.
Not only as a player but Cryuff also penned a remarkable legacy as Barcelona's coach and his stint at the club as a gaffer would actually produce a far more humdinger era than the one when he played. He managed to score 86 from 231 games for Barcelona and won one La Liga and one King's Cup.
4. Carles Puyol
Dotingly known as the heart of the Catalan defence, Puyol played out his entire career in Barcelona. Despite starting his initial days at the local side, La Pobla de Segur, he joined the Barcelona youth team when he was just 17 years old. Initially playing as a right-back, a defensive crisis transitioned him to the role of a center-back where he would go onto proliferate in the years to come.
He led Barcelona to an emphatic title triumph in 2004-05 that starred Frank Rijkaard as their preceptor. Not only he was a beast of a player, but he also championed the cause of sportsman spirit and two of the most iconic displays of the same was him kissing his captain's armband after a historic shellacking of Los Merengues at Santiago Bernabéu and allowing Eric Abidal to lift the Champions Trophy in 2011 at Wembley.
3. Ronaldinho
The ever-smiling assassin arrived at Camp Nou in the summer of 2003. It was needless to provide a separate testimony for this Brazilian talisman, who made the most complicated dribbles look like a child's play. Before Messi donned the number 10, it was Ronaldinho who sported it, and he did it with pride and in style.
Such magnificent was his dominance that even after scoring a brace against arch-rivals, Real Madrid on November 19, 2005, it was the latter's fans who stood up to give him a standing ovation. He played five seasons for the club, featuring in 250 games and bashing 110 goals. His honours at the club include two La Ligas, one Champions League, two Spanish Super Cups and three Copas Catalunya.
2. Andres Iniesta
This man was the living embodiment of Picasso and Angelo on the football field. A burning sensation with an endless eye for picture-perfect through balls, long balls, crosses and passes, Iniesta belted out such an extraordinary gentry of football in Barcelona, that legends of the Catalans will always be incomplete without his presence.
He became a crucial part of Barcelona's success under the titanic preceptors that featured the likes of Frank Rijkaard, Pep Guardiola, Tito Vilanova, Luis Enrique and Ernesto Valverde. He played a staggering 16 years for the club and managed to star in 758 games, notching up 66 goals in the process. He won three Club World Cups, four Champions Leagues, three European Super Cups, nine La Ligas, six Copas del Rey, seven Spanish Super Cups, five Copas Catalunya and two Catalan Super Cups.
1. Lionel Messi
With all said and done, the little magician, hailing all the way from Argentina, spent a staggering 16 years at the club before tragically bidding adieu to the Cules. The history that this man carved at Camp Nou is simply overwhelming for the Catalans.
He starred in 520 games for Barcelona, racking up a whopping 474 goals for them, propelling them to immortal glory while he stayed at the club. Barcelona's fans were left in tears and tatters when the titan finally decided to step down. His achievements are excessively swamping to be penned down in one piece but also to mention, his legacy is absolutely untouchable.