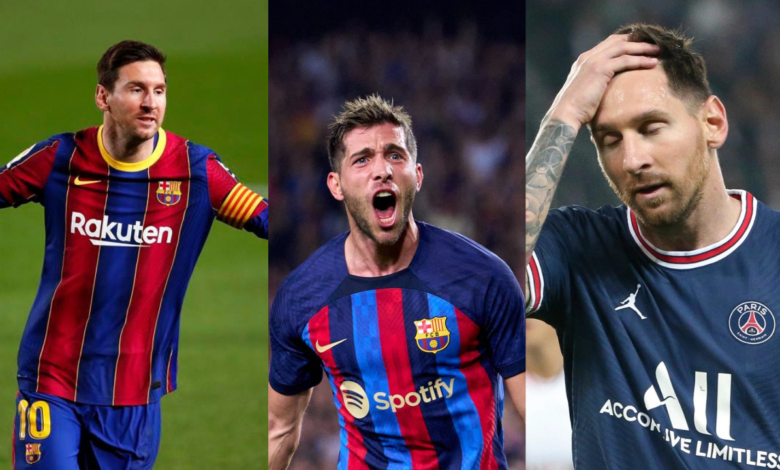 After Barcelona's critical 2-1 La Liga victory over Real Madrid, defender Sergi Roberto said that the Argentine does not deserve the abuse he is experiencing in Paris and that he hopes Messi will return to Barcelona in the summer.
Once the Catalans were unable to extend Messi's contract in 2021, he departed Barça for PSG. Nevertheless, this summer might see the 35-year-old on the move again since his contract in France is up for renewal.
The player has been in contract negotiations with PSG. But there has been widespread talk that he may return to Barcelona for one more farewell performance.
Likewise, French media believe that Messi is set on returning to Barça, while it is also said that PSG themselves are unsure about renewing for the seven-time Ballon d'Or winner, despite conversations taking place.
The 2022 FIFA World Cup winner has also been the target of abuse from Paris Saint-Germain supporters, who blame him for the club's dismal recent performance and elimination from the UEFA Champions League.
Now that things have escalated to this point, Roberto has said that Messi should go back to Barcelona in the summer because he does not deserve to be treated the way he is in Paris.
Sergi Roberto wants Lionel Messi back at FC Barcelona from PSG
And Roberto isn't the only Barça player to express interest in Messi's return; Ronald Araujo said the same thing only last week.
"With open arms, who wouldn't be ready for Messi's return. In the end, we don't want to talk too much because it's up to him, the president, the coach, or whoever, but if it's up to the players, we're already waiting for him," he said (h/t Mundo Deportivo).
Talking about the treatment he is receiving from PSG fans, Roberto added: "You don't understand why, he is having good seasons in Paris, scoring a lot of goals, assisting…"
"They've taken it out on him because of the elimination, but he's a spectacular player and it's very bad that a player of this level is treated in this way. We're going to treat him very well here if he comes."
In order to go forward with a prospective acquisition of Messi, Barcelona will need to settle their Financial Fair Play issues by considerably reducing their pay cost by the summer. This might need trading away part of the present roster.
ALSO READ: "Three times in a row. It's huge considering the formidable Real side" – Twitter reacts after Barcelona beat Real Madrid three straight times
Twitter Reacts:
he is just like everyone of us…COME HOME LEO #Messi𓃵 https://t.co/o3n8t1zKTh

— IBehh (@IBphilic) March 20, 2023
I want Messi back in Barça…. https://t.co/diALKgqs0O

— jonathan (@Hechandoleganas) March 20, 2023
My favorite part about this is Messi probably wants to go back too but he can't 🤣 https://t.co/7jgcQuJpal

— 🫒🥖 (@420LAFC) March 20, 2023
Yes… I need the whole squad to do Cesc 2010/11 #bringhimhome shameless levels of tapping up let's go https://t.co/WOrkirCGiJ

— Barcelista (@Barcelista) March 20, 2023
This can be great and the idea is very welcome 👏👏👏 https://t.co/Xby41bP6gS

— John Siyeba (@john_siyeba) March 20, 2023
Lionel Messi is not coming back to Barcelona with Joan Laporta as the president. Deal with it. The sheer audacity to even hand his no.10 jersey to another player already spoke volumes.

— David Ben (@_davyben) March 20, 2023
He deserves a club and fans that respect him appreciate him and support their players win or lose. A real big club like Barca. His home. #Messi𓃵 is the #GOAT𓃵 he is a master playmaker many clubs wish to have him.

— RWA (@R_W_A_S) March 20, 2023
Roberto is all of us. Run it back pic.twitter.com/u0IFhgIcCC

— Shivang Bhanti (@genjutsu157) March 20, 2023