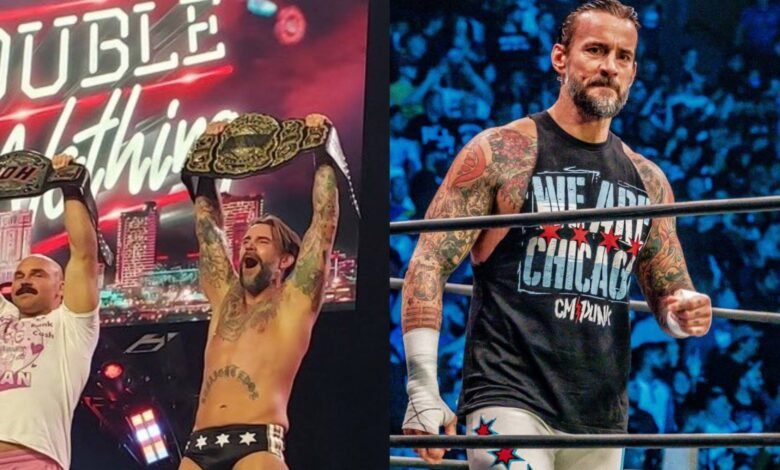 On June 17th 2023, AEW's new show on Saturdays called Collision is going to debut. Allegedly, the controversial CM Punk is returning on the show but with another major surprise return.
Wrestling journalist Dave Meltzer of the Wrestling Observer Newsletter reported that the debut episode of Collision will have some surprises. It will most likely have CM Punk and "what is expected to be either another major name, debut, or return." Continuing from his previous reports of the same,
Meltzer reports that Collision's premiere will happen from United Center, Chicago, Illinois. Its timings will be 8-10 PM Eastern, probably on TNT. The official announcement for the show is expected on 17th May, around the time of Warner Bros. Discovery's upfronts.
Former WWE and current AEW star CM Punk was backstage for a bit at tonight's #WWERAW taping in Chicago.

There's no word who Punk was there visiting, but we have heard from several WWE sources that he did briefly see Paul Levesque.

Punk also met with several other WWE talents,… pic.twitter.com/lHqeQvjGID

— Wrestle Ops (@WrestleOps) April 24, 2023
According to reports, the roster is going to split between Dynamite and Collision. If that happens, The Elite and the Blackpool Combat Club will likely head AEW Dynamite. Whereas, Punk and FTR will probably headline Collison. There's a rumor going around that Chris Jericho will also feature on the new show. He will make a strong opponent for Punk and they will be feuding.
Why is CM Punk absent from AEW?
CM Punk is currently on indefinite suspension following his infamous backstage brawl after the All Out media scrum. In early September during the scrum, Punk had some fiery and controversial remarks. He vented out against Colt Cabana, Hangman Page and rest of the top AEW stars.
CM Punk bald now 😭 pic.twitter.com/kJRb2RWtU9

— Public Enemies Podcast (@TheEnemiesPE3) April 29, 2023
Although there are conflicting reports about what transpired, the general agreement is that Punk was the one who started throwing hands. It was like a bar room brawl with Punk, Matt and Nick Jackson, Kenny Omega, Ace Steel and even Punk's dog Larry. Due to this unruly behavior, AEW suspended Punk, Omega and The Young Bucks and fired Steel. They lifted the suspensions of Omega and the Young Bucks soon.
A meeting also happened last week, between Punk, Jericho, and FTR that "went well" according to Meltzer. So far, nobody knows who's the major debut alongside Punk.