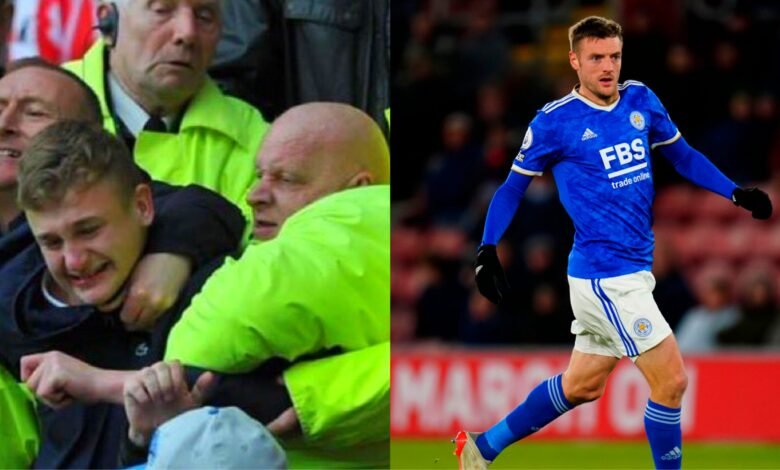 It somehow feels that Manchester United is desperate to get a few names coming onto their ranks after the latest reports have emerged that they are now hot on the trail of Leicester City striker, Jamie Vardy after their deal with Marko Arnautovic fell off midway.
With the window slowly coming to a close, Manchester United will be desperate to lane a significant name, the urgency of which has compounded after a couple of humiliating defeats in the first two games of the season.
United started their latest campaign with a drubbing at the hands of Brighton where they were trailing by two goals in the opening half before an own goal from the visitors reduced the arrears but would eventually pass a damning verdict upon Manchester's coming into the season.
Manchester United are now considering a move for Leicester's Jamie Vardy.

[The Athletic] pic.twitter.com/nhV5o0Yc8G

— SPORTbible (@sportbible) August 15, 2022
Can Jamie Vardy be the key to locking up Manchester United's pandora's box?
If the opener was just a prelude to madness, the following encounter against Brentford was a sheer disaster with Manchester United trailing by 4 goals within just 35 minutes, a diabolical fate that United had no response to despite fragmented bursts of explosions in the Brentford half in the last 45 minutes.
United was already under fire after questionable decisions from the board to do signings that never really seemed to address the elephant in the room with Harry Maguire's dawdling in the defence that would not cease conceding. The contest against Brentford opened up another major chink where David de Gea goofed up big time with the ball passing between his fingers which led to Brentford's opener.
United desperately wanted to land Arnautovic, a move that made very little sense to the fans, especially given his age and a questionable past in the Premier League with intermittent bursts of brilliance.
The Devils also pursued Benjamin Sesko which thrilled the supporters for a while before the latter chose to put pen to paper for RB Leipzig. Now if an aging Ronaldo wasn't enough, now they want to land a 35-year-old Jamie Vardy who is way past his prime and at least in the near future, has retirement on his cards.
With Ronaldo most likely to leave, Manchester will be desperate for a striking option and the current option that they have at the moment is Anthony Martial who was injured just ahead of the season and is now clouded by uncertainty over his return.
If Vardy is to come to United, they will probably inject an emergency salve in a wound that has long been festering and has been slowly taking a turn for the worse with bare minimum commitment from the players who have been nothing close to the brand of football that Manchester United was known for.
Cristiano Ronaldo can make any kit in the world look good.pic.twitter.com/QtZPXCl7Zr

— The CR7 Timeline. (@TimelineCR7) August 15, 2022