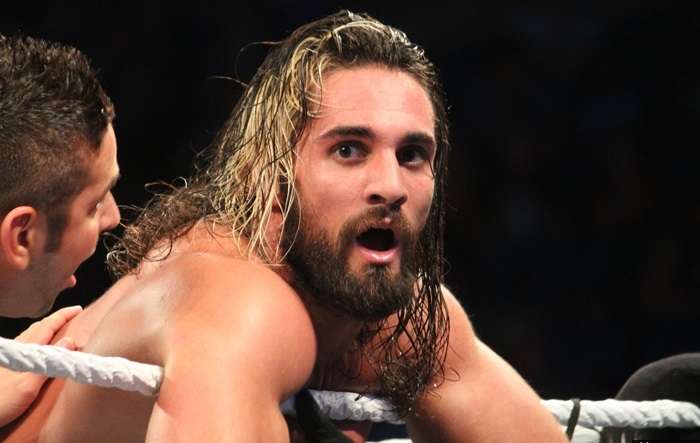 WWE Superstar Seth Rolins has achieved a lot of success in the company so far. The Architect of the Shield is a former multi-time Universal Champion. He has also held the WWE World Heavyweight Championship. Besides, Seth Rollins has showcased his talent in the tag team division as well.
Earlier, Rollins was one of the most liked Superstars in WWE because of his face gimmick. However, after Survivor Series last year, Rollins embraced his dark side on WWE TV and is now known as The Monday Night Messiah. His disciples Murphy and Austin Theory have supported him to perfection.
WWE Star Seth Rollins not allowed to enter this place!
A tweet has recently gone viral on Twitter, where a user named Pulkit has shared photographs from a Watershed place in New York City. The photos are of a board which lists the items that are not allowed inside that area.
Surprisingly, the long list of prohibited things also includes WWE Superstar Seth Rollins. As bizarre as it seems, Rollins is not allowed to enter the place. Perhaps, the owner of the place dislikes his current Monday Night Messiah gimmick, which is why he has decided to ban Seth Rollins from the place.
Also Read: 3 WWE Super Stars who may never join AEW
One thing is for sure, the owner and the one who put up this board does not that Seth Rollins' real name is Colby Lopez! He is also famous as Tyler Black in the wrestling word. The Monday Night Messiah cannot enter this place, but Colby Lopez definitely can. The Twitter users are finding this tweet extremely amusing, with some fans curious to know the reason behind it.
Rollins has probably not seen this tweet yet. It will be intriguing to see how he reacts. As far as his gimmick is concerned, He is currently engrossed in a rivalry with Rey Mysterio.