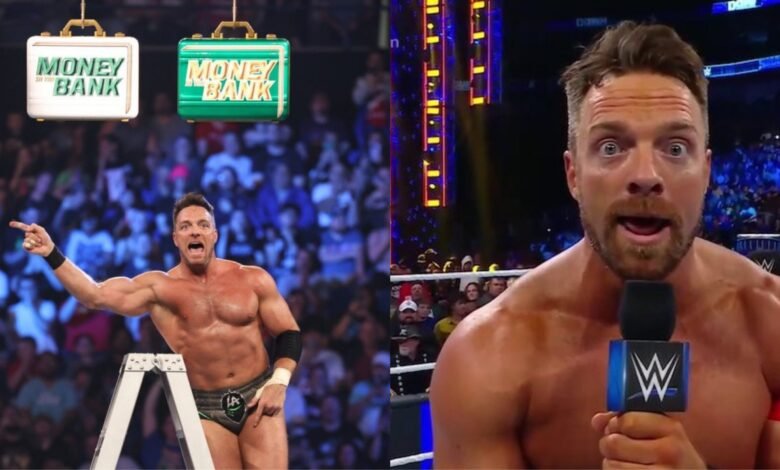 There are heavy rumours of the fact that LA Knight has probably started making all the right sets of noises and will probably be the winner of the upcoming Money in the Bank ladder match. However, if we go by the reasons, then the man actually deserves it and somehow has been hanging around a title shot for too long.
It is not that he isn't capable of clinching one but once again, somehow he is still plying his trade in the mid-table and WWE hasn't yet found an angle to plug him into the main fray of the juggernauts. However, the fact that the MITB is right around the corner, this is WWE's perfect chance to get him that edge by making him win the MITB.
#1 LA Knight is a crowd favourite and he can get a huge pop as a MITB contract holder
LA Knight's fighting has been top notch and the kind of gimmicks that he has so far pulled off makes the WWE Universe go crazy. WWE's recent stunt with handing over the belts to the crowd favourites makes LA Knight the perfect contender to lift the belt around his waist. However, before he gets there, the fact that he wins this contract, also gives him the time to try and tease the champion, building another character arc for himself.
#2 A change in his character arc makes LA Knight a perfect origin of a multiverse of stories
If LA Knight wins the MITB match then WWE can try and experiment an origin of stories and most importantly there can be a branch of different storylines which will change the entire WWE roster. He is a man who can be very versatile and can be a perfect fit for many wrestlers in the industry. Hence, if he wins the title, that also insinuates the fact that several rising superstars may be a right fit for the belt around their waist too.
#3 A new face from the mid-table finally rises
If LA Knight wins, that means from the main roster of champions, a new face finally rises which would hint at the shake up of things. Even though it is said that WWE is still considering this move, yet, the fact that a new face will be entering the fray means that this move will followed by a series of new faces going for the championships.