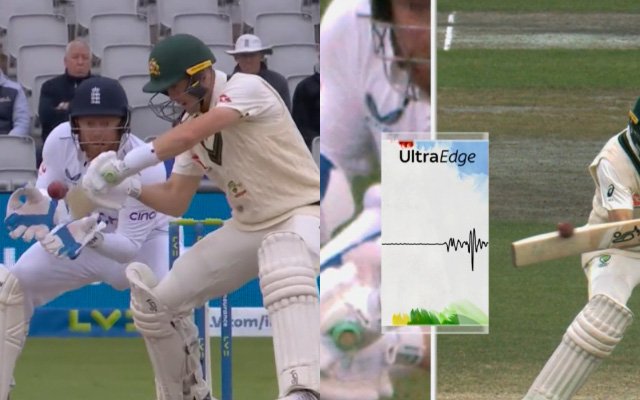 English Fans Boo Marnus Labuschagne When He Did Not Walk Away After Edging: The fourth Ashes Test at Old Trafford, Manchester, is turning out to be a thrilling encounter. Australia's Marnus Labuschagne has certainly risen to the occasion with a memorable century against England. After scoring his first fifty in the series during the first innings, Labuschagne was unable to convert it into a hundred. However, he more than made up for it in the second innings by recording his 11th Test hundred, his first in seven months.
When Day 4 commenced, after a lengthy rain delay, Australia found themselves trailing by 162 runs from England's first-innings score. On 44 at the start of the day, Labuschagne demonstrated immense determination and skill. He turned his start into an incredible century that greatly helped Australia climb out of a tough spot.
His exceptional knock of 111 runs off 173 balls came to an end when England's Joe Root trapped him with a delivery. Jonny Bairstow, England's wicketkeeper, caught Labuschagne's edge, but umpire Nitin Menon did not react to England's appeal. England reviewed the decision almost immediately, and Ultraedge confirmed a significant spike. However, Labuschagne's decision not to walk after edging the ball did not sit well with the home crowd, resulting in a round of boos after the replays were shown.
VIDEO: English Fans Boo Marnus Labuschagne When He Did Not Walk Away After Edging Through To The Wicket-Keeper
Is there ANYTHING this man can't do!?

Joe Root gets the breakthrough. COME ON! 💪 #EnglandCricket | #Ashes pic.twitter.com/EFmDIex5pU

— England Cricket (@englandcricket) July 22, 2023
The Ashes series has so far been an intense battle. Australia won the first two Tests, while England made a comeback at Headingley. The Ashes urn is currently in Australia's possession, and a draw in this Test would be sufficient for them to retain it. However, England needs to win this Test and the subsequent one in London to regain the urn.
You may also read: "Sitting In The Dressing Room And Watching.." – Stuart Broad Breaks Silence On Rain Ending England's Hopes In Ashes 2023
Unfortunately, much of Day 4's action was washed out due to rain, and the forecast for Day 5 also looks uncertain. When play resumes, Australia's Cameron Green and Mitchell Marsh will take up the mantle, with their team trailing by 61 runs with five wickets in hand. England, on the other hand, is hoping for the rain to stay away as they are in a strong position to win the Test and keep their hopes alive in the series.
Labuschagne's performance in this Test demonstrates the unpredictable and enthralling nature of cricket, with both teams pushing their limits to claim the prized Ashes urn. As fans around the world wait in anticipation, all eyes are on Old Trafford, hoping for clear skies and an exciting conclusion to the Test.