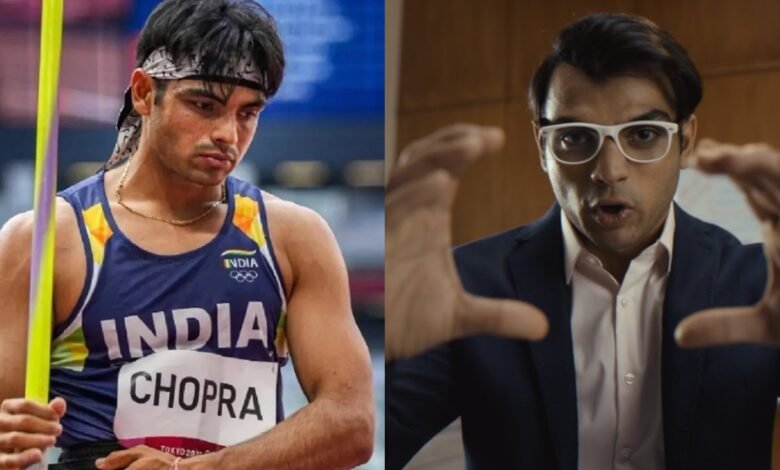 Neeraj Chopra shot through the roof with his popularity as the Golden man of India bagged the nation's maiden gold medal in track and field events at the Olympic Games.
We have all known how Cred, a fintech company based in Bengaluru, has been grabbing the eyeballs with their innovative adverts. Before the IPL kicked off in 2021, Rahul Dravid was roped in by the company and the advertisement that followed left the entire nation with their heads turning.
Neeraj Chopra appears in a different avatar
Similarly, they managed to bag Neeraj Chopra in for an advert and the entire nation went gaga over India's gold medalist in the recently concluded Olympics that turned out to be India's most successful showdown ever.
India has always loved to embark upon the bandwagon that takes the world by storm, and their current fad about Neeraj Chopra is absolutely blowing through the roof.
The ad created by Cred displayed a wacky version of Neeraj Chopra, contrary to his shy and reticent self, that the audience loved with all their hearts. It also displayed India's newfound love for Javelin.
Chopra's Olympic triumph
Neeraj Chopra shared the ad on his Twitter handle as it riveted a lot of attention from Indian fans. They couldn't help praising the acting skills of Neeraj.
In fact, a few even suggested that he can give a good run of money to our established actors who have been doing this for a living.
Twitter couldn't contain their excitement to see the wackier edition of a calm and composed Neeraj Chopra who has been a hero to them ever since his Olympic triumph. He surpassed the likes of renowned Olympic javelin thrower, Vetter and famous Czech athletes, Vadlejch and Vesely to bag the gold.
Watched this #Ad more than 10times and still can't stop laughing, it is tickling my funny bones …
Can somebody please help😆
This is hilarious ❤️❤️❤️❤️@Neeraj_chopra1 pic.twitter.com/EPh7IMbDgB

— itsmahi (@MahimaNirala) September 19, 2021
The ad makes zero sense to ppl who are slightly dim with zero wit. pic.twitter.com/qNEdRo1Vz8

— 🇹🇼🇬🇧🇯🇵 (@Aiirai14) September 19, 2021
Haha gf hai.. biwi hai.. that was epic! 😂 @Neeraj_chopra1 #NeerajChopra ..Just cant get over this ad! Its so addictive. CRED thanks for such a creative ad! Mind blown! pic.twitter.com/7BlDQ1QE4R

— JaySas (@jaysas_xyz) September 19, 2021
Neeraj Chopra is rocking the Cred Ad! pic.twitter.com/0GTv144pIg

— Sai Aditya Nayudu (@ImTheSkylord) September 19, 2021
Whoever thought of casting Neeraj Chopra in the Cred ad👏 pic.twitter.com/EpjrKDD9Sq

— Xavier Pro Max (@XavierProMaxx) September 19, 2021
Me After Seeing Neeraj Chopra in Cred ad –#NeerajChopra pic.twitter.com/BZcji8MEdt

— India Trending (@IndiaTrendingin) September 19, 2021
#NeerajChopra
Superb acting by Neeraj chopra in cred ad , deserves gold in acting too😊 pic.twitter.com/URBViPtvvk

— Shubham Jain (@Shubham09273730) September 19, 2021
After watching Neeraj Chopra #CRED Ad actors are messaging Neeraj Chopra pic.twitter.com/kW6IbGOvjd

— Rohit Chauhan📈💹 (@imrchauhan5) September 19, 2021
After watching neeraj chopra's acting in CRED's Ad,

*Le Akshay Kumar, who was planning to do Neeraj's biopic: pic.twitter.com/XW0NjWUhnN

— MayMayholic (@maymayholic__) September 19, 2021