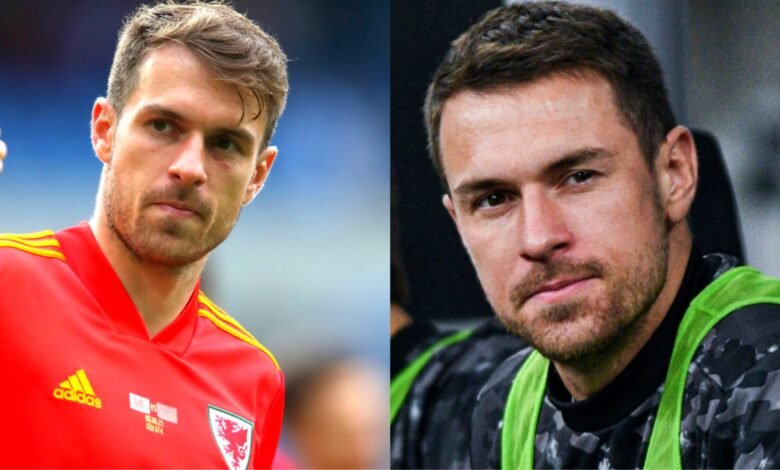 Despite a distended entry at the Old Lady, the marriage would eventually end with an unstated bitterness between the Welsh bomber, Aaron Ramsey and Italian giants, Juventus. The two reached a mutual agreement to put an end to the hallowed indenture that bound the duo in 2019.
The Welsh midfielder who has plied his trade for Arsenal formerly fell out of favor at Turin and was sent on loan to the Scottish side, Rangers. Known for his occasional showdown of brilliance, the midfielder brought a boatload of experience along with him.
He started his career with Cardiff City and then shuffled over to the Gunners, a breakthrough move that shaped his career. In his 11-year-long stint at Arsenal, he was also out on loan to Nottingham Forest and Cardiff City for a couple of years.
Juventus would bring him to Italy in 2019 and the man appeared in 49 contests in the colors of the Bianconeri, he would play 49 games that would see him bash home 5 crucial goals. Now with the Welsh wizard available for a transfer, there will be a string of clubs who would be eager to land his signature for the upcoming season. Let us take a look at three clubs that can profit handsomely from Ramsey's incoming.
#1 Nottingham Forest
Being on loan to Forest earlier in his career, he has been a part of 5 games, even though they didn't produce any strikes. However, Ramsey was young and still looking to find a stride. This is a much more experienced campaigner who can make things happen.
Forest has lost the sheen over ages and it is more modest than ever.  A player of Ramsey's caliber would be a quality addition to their ranks and as far as the rumors go, they are acing the queue to land Ramsey ahead of the upcoming summer.
#2 Inter Milan
The Nerazzuri have an amazing midfield that stars the likes of Brozovic, Barella, Calhanoglu, Roberto Gagliardini, and Denzel Dumfries. Despite the presence of Brozovic in central midfield, they will need a back-up to the big man who can connect well with the infringing moves from the Men in Blue.
Given the experience of Ramsey, he would be a priceless back-up to Brozovic and at times, Inter may even connect Brozovic and Ramsey to make a solid double pair in the defensive mid that would provide the much-needed reliability to their solid attacking unit.
#3 Roma
Roma welcomed Paulo Dybala and will be looking for a solid midfield that can provide him with the necessary deliveries to fire home. Ramsey has always been known for carving together accurate passes and his eye for precision makes him a priceless addition at Roma.
Mourinho is also someone who likes to balance his defence well and bridge it perfectly with the surging attacking front. The addition of Ramsey can forge a proper formation in the heart of the midfield that can bridge the attacking force and the rallying defenses perfectly, especially considering the immense experience of the towering Welsh.