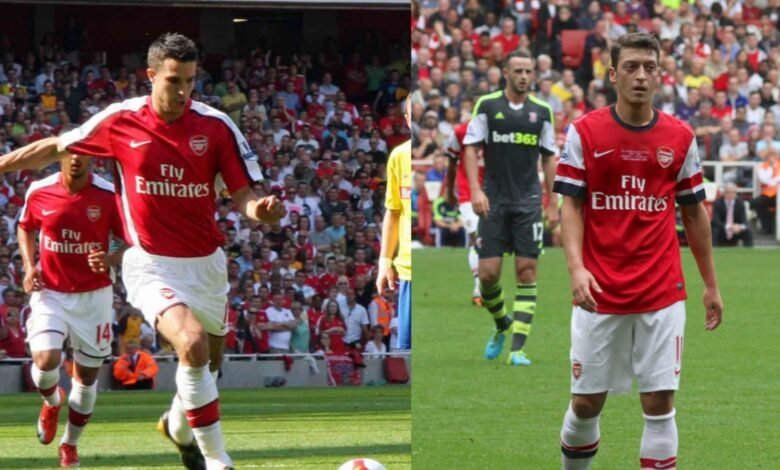 2010-2019 was Arsenal's first decade without a league title since the 1960s. Wenger's football philosophy grew old and his tactical acumen was often questioned by fans and pundits. After Wenger's retirement, Arsenal only plunged to new lows. Despite the debacle, Arsenal did possess some fine players during the last decade. This article takes a look at Arsenal's greatest XI of the last decade.
Honorable mentions:- Hector Bellerin, Olivier Giroud, Theo Walcott.
Goalkeeper – Petr Cech
Cech edges out Szczęsny as he was more reliable and consistent than the Pole. After a hugely successful Chelsea career, Cech joined Arsenal in the summer of 2015. In 2015-16, He won the Premier League Golden Glove for a record fourth time even amidst frequent defensive errors. Cech retired from football in 2019 after four seasons with Arsenal.
Defenders – Bacary Sagna, Laurent Koscielny, Per Mertesacker, Nacho Monreal
Sagna was often Arsenal's best defender but he barely received the due credit for his performances. Primarily a right-back,  Sagna also filled in at central defense in case of injuries. Due to his consistency, Sagna edges out Bellerin for a spot in Arsenal's greatest XI of the last decade.
Signed in 2010, Koscielny was largely consistent during his nine seasons at Arsenal. His height and physical prowess made him a fan favourite, but the manner of his exit in 2019 has hindered his legacy. Koscielny won three FA Cup trophies at Arsenal.
A clean defender, Mertesacker rarely got booked and embodied the quote "right place at the right time". He was Arsenal's best central defender since Campbell but injuries prevented him from playing regularly. Mertesacker was also rated for his distribution and possessed a good understanding of the game.
Monreal was Arsenal's first-choice left-back for a large portion of the previous decade. Monreal was solid in the air, read the game well and was a good crosser of the ball. He has also scored crucial FA Cup knockout goals against the likes of Manchester United and Manchester City.
Midfielders – Aaron Ramsey, Santi Cazorla, Mesut Ozil
Described by Wenger as a complete midfielder, Ramsey was the heart of the Arsenal team that lifted back-to-back FA Cups in 2014 and 2015. Ramsey had the knack of scoring goals in important games, despite playing deep in the midfield. Fans loved him for his work ethic and his passion for the club.
Cazorla was signed by Arsenal in 2012 and made an immediate impact as an attacking midfielder by scoring 12 PL goals. A highly technical player, Cazorla had a wide passing range and was renowned for his creativity. It was Cazorla's free-kick that inspired a dramatic comeback from Arsenal in the 2014 FA Cup final.
Few players in football divide opinion as much as Ozil, arguably football's last classic playmaker. At his best, Ozil was simply unplayable, as his vision and positional sense made him a special player. He provided a staggering 19 assists in the 2015-16 season, but soon his qualities became dispensable in the ever-changing landscape of English football.
Forwards – Pierre-Emerick Aubameyang, Robin Van Persie, Alexis Sanchez
Aubameyang joined Arsenal on the back of an excellent goalscoring record for Dortmund. He soon fulfilled his promise by netting 22 PL goals each in 2018-19 and 19-20. His form in front of the goal has waned, but he has done enough to gain a place in Arsenal's greatest XI of the last decade.
At Arsenal, Sanchez was a genuinely world-class player, capable of turning games on its head. He scored 80 goals in 180 appearances for Arsenal and was also a reliable creator.
Van Persie was the king of the emirates during the start of the last decade. He scored a club record-equaling 30 goals in the 2011-12 PL campaign, but soon became the villain with a move to United. But his legacy at Arsenal cannot be debated, as he was their best center-forward since Thierry Henry.