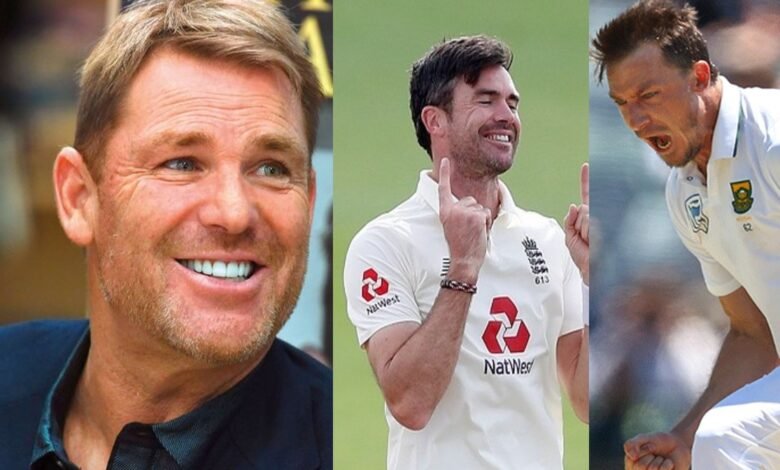 Legendary Australian leg-spinner Shane Warne shared an interesting list on his official Twitter handle yesterday. While Warne was a spin bowler, he preferred to prepare a list comprising the ten best fast bowlers in cricket history. Interestingly, Warne did not pick any Indian fast bowler. He shared the list without any particular order.
Warne's list has gone viral on social media, as it has received more than 5,000 likes on Twitter so far. Quite a few big cricketers have shared their views on Shane's list of all-time best 10 fast bowlers as well. So, without further ado, let us have a look at the list of fast bowlers that Shane Warne has shared on Twitter.
Shane Warne lists Dale Steyn and James Anderson among all-time best 10 fast bowlers
Shane Warne started the list with former Australian fast bowler Dennis Lillee. He then added former Pakistani speedster Wasim Akram, followed by Malcolm Marshall from the West Indies, Glenn McGrath from Australia, Curtly Ambrose from the West Indies again, recently retired Dale Steyn from South Africa, Sir Richard Hadlee from New Zealand, Jeff Thomson from Australia, Michael Holding from West Indies and James Anderson from England.
Nine fast bowlers from Shane Warne's list have already announced their retirement. The last name on the list James Anderson is still active, and he is still playing Test cricket for the England cricket team.
No particular order my top 10 fast bowlers…..

Lillee
Akram
Marshall
McGrath
Ambrose
Steyn
Hadlee
Thommo
Holding
Anderson

— Shane Warne (@ShaneWarne) September 1, 2021
Former cricketers shared their views on the list prepared by Shane Warne
Three big names from the cricket world made their presence felt in the comments box of the tweet shared by Shane Warne yesterday. They gave their own views. Warne's former Ashes rival Kevin Pietersen wanted to know what would be the order of the list. He was curious to know their rankings, as per Warne's opinion. Meanwhile, former Australian captain Mark Waugh said he would pick Shaun Pollock, Waqar Younis and Joel Garner in the list.
Simon Doull also left a comment. He believed that Warne made a good decision by picking Jeff Thomspon instead of Allan Donald. "Thomo for Donald gets no argument from me. Great minds," Simon Doull commented. 
Thomo for Donald gets no argument from me.👌🏻 Great minds..😂😂

— Simon Doull (@Sdoull) September 1, 2021