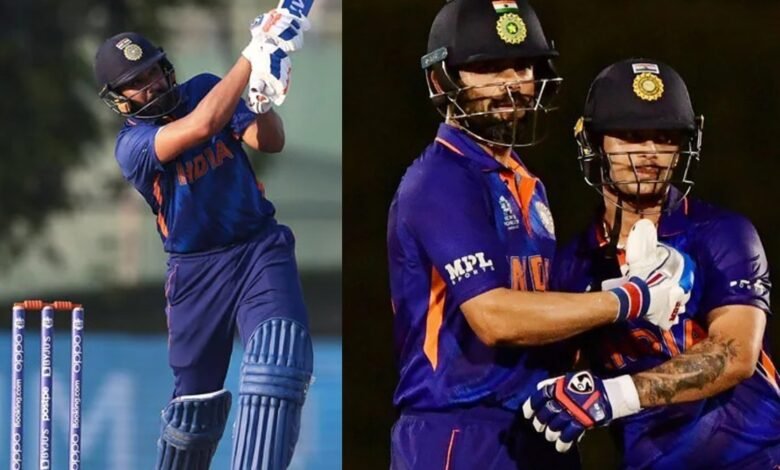 The Indian captain Virat Kohli and vice-captain Rohit Sharma have the opportunity to achieve a rare record of scoring 1000 runs in the history of T20 World Cups, if they have a good time with the bat in T20 World Cup 2021.
The former Sri Lankan captain, Mahela Jayawardene, is the only batsman so far who has scored more than 1000 runs in the T20 World Cup history. Although Chris Gayle is very close to him, his form is a little bit shaky at the moment, and he is not even a certainty in the West Indies playing XI.
Rohit Sharma and Virat Kohli are expected to get a lot of batting time in T20 World Cup 2021
Virat Kohli and Rohit Sharma, on the other hand, are absolute certainties in the Indian playing XI and since, both of them will bat in the top order, they will have the opportunity to score more than 300 runs in the tournament, if India goes deep into the knockouts.
Currently, Virat Kohli has 777 runs to his name in 16 innings and Rohit Sharma has 673 runs to his name in 25 innings in the T20 World Cups and in case both of them have stellar tournaments, they can both cross the 1000-run mark.
Shakib Al Hasan surpasses Rohit Sharma in T20 WC runs tally.

Most runs in T20 WC history:

1016 – M Jayawardene (31 inns)
920 – C Gayle (26 inns)
897 – T Dilshan (34 inns)
777 – V Kohli (16 inns)
717 – ABD (29 inns)
675 – Shakib (28 inns)*
673 – Rohit (25 inns)#T20WorldCup

— SportsAmaze (@Sports_amaze) October 21, 2021
The Bangladesh all-rounder Shakib Al Hasan is another player who stands at 675 runs, as far as his tally of runs in the T20 World Cups is concerned. But, if Bangladesh doesn't qualify to the knockouts, then Shakib might get only 5 more games in the tournament which might not be enough for him to complete his 1000 runs.
On the slow pitches of the UAE, Bangladesh might actually pull off a couple of upsets against the big teams at the group stage and might make it to the final 4. But, at this stage, they are not the favorites from their group.
As far as the Indian team is concerned, they are one of the three big teams in their group, along with Pakistan and New Zealand. If the men in blue play to their potential, they should be able to clear the group stage and make it to the knockouts.