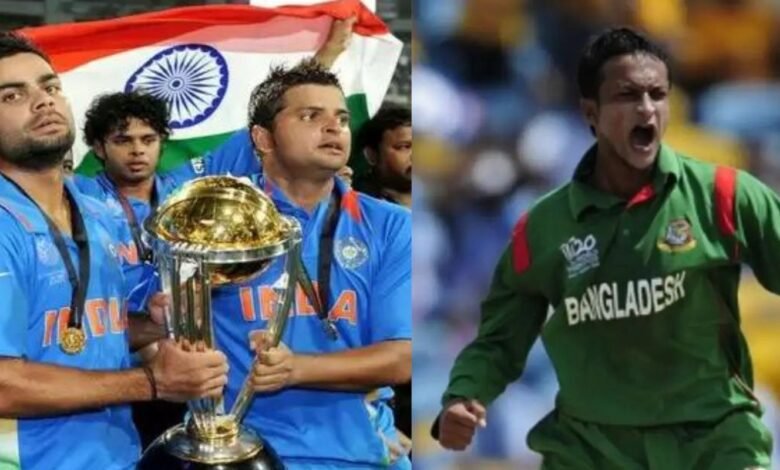 There are concerns about the future of ODI cricket. Amidst this, the ODI World Cup will happen later this year. It will take place in India. Back in 2011, the event happened in India, Sri Lanka and Bangladesh. A few cricketers who were a part of that event might also get to showcase their skills in the upcoming campaign. Not to mention, if they do get to play later this year, it might be their last World Cup campaign. Here, we take a look at the playing XI of cricketers who played in the 2011 WC and might also play in the 2023 WC.
Openers: Tamim Iqbal and Virat Kohli
Tamim Iqbal has been around for a long time now. At the moment, the southpaw is leading the side. Shakib Al Hasan also has a great chance but Tamim is the likely skipper for Bangladesh right now.
There are not many options for the other opening position here. Hence, we have gone ahead with Virat Kohli. He won the World Cup in 2011 and he will be wanting to finish his career on a high with a win later this year at home.
Middle-Order: Kane Williamson, Steve Smith, Mushfiqur Rahim (WK) and Angelo Mathews
Kane Williamson and Steve Smith were youngsters back then. However, they are stalwarts right now. Kane has an injury issue but as per recent reports, he might get fit in time before the mega-event. Steve Smith will be itching to decorate his career with another World Cup win.
Mushfiqur played in the 2007 World Cup and 16 years later, he might also feature in the upcoming edition. His role as a keeper and the middle-order batter will be important for the Bangladesh side. The same holds good for Sri Lanka with Angelo Mathews, who will look to help Sri Lanka to do well in this tournament.
All-Rounders: Shakib Al Hasan
Shakib Al Hasan will be the all-rounder in this playing XI of cricketers who played in the 2011 WC and might also play in the 2023 WC. Of course, he would be the most important player for Bangladesh in this tournament. It is likely to be his last edition and hence, helping Bangladesh defeat a few top sides will be on his agenda. Craig Ervine, who is a part of the Zimbabwe set-up right now, might also be a part of the tournament.
Bowlers: Wayne Parnell, R Ashwin, Tim Southee and Adil Rashid
Tim Southee will lead the pace attack of this playing XI of cricketers who played in the 2011 WC and might also play in the 2023 WC. Wayne Parnell might get a place in the South African setup for the event. His experience will help the Proteas in India.
R Ashwin is currently not a part of the ODI squad. However, as seen with the 2022 T20 World Cup, if there is an injury issue, he might be on the roster. Hence, he is a part of this list. Adil Rashid has been England's lead spinner in the white-ball format for a while now. He will be a part of the 2023 World Cup.