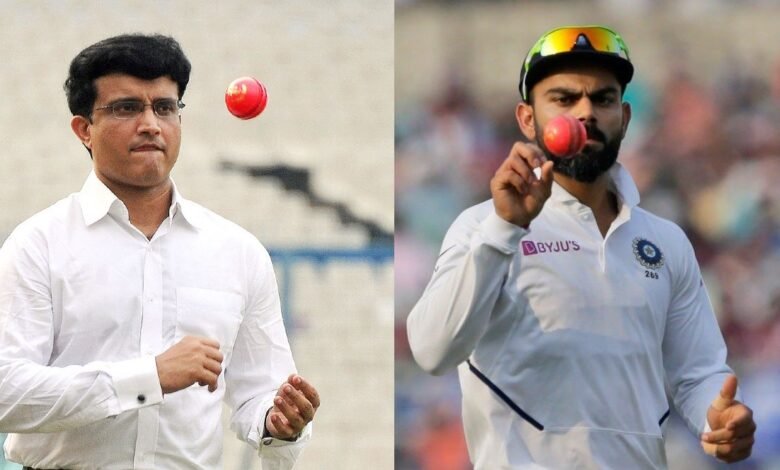 Former Indian captain Sourav Ganguly, who is the president of BCCI at the moment, has confirmed that India will be playing day-night pink ball test matches on a regular basis in their home season in future because that's how the popularity of test cricket can be enhanced going forward.
India played their first-ever pink ball test match at home against Bangladesh in Kolkata, after Ganguly took charge of the board and then they played another one against England last season in Ahmedabad when the new motera stadium was inaugurated.
According to Ganguly, who was in conversation with News 18, test cricket demands a lot of time from the audience as it goes on for 7 hours every day for 5 days. It's hard for people to devote that much time to the game if it happens in the peak hours of work because everyone is busy with their day jobs and the stadiums can't be filled to their full capacity.
However, if the timings are changed, there is a good chance the stadiums can be filled for the evening and the night sessions, as it was observed during the Eden Gardens day-night test match against Bangladesh.
The cricketing fraternity has divided views on pink ball test match
Views among the players are divided as far as a pink ball test match is concerned. While some have accepted that time has evolved and test cricket has to evolve with it to regain its popularity, which has been on the decline since the emergence of T20 cricket, some are still insistent about the fact that test cricket has a history attached to it and a big part of its traditional dimension will be taken away if morning sessions don't remain a part of test matches anymore.
However, every cricket board around the world is now including at least one day night test match in their cricketing calendar. In fact, in the ongoing Ashes series down under in Australia, there are going to be two-day night test matches. After the 5th traditional day test, which was scheduled to take place in Perth, got cancelled due to quarantine issues, it has been decided that the 5th Ashes test will now take place in Hobart and will be a day-night affair.
It will be interesting to see how many day-night test matches India schedules during their home season in the next couple of years. Sourav Ganguly seems very firm with his idea of organizing day-night test matches at some of the biggest test venues in India.