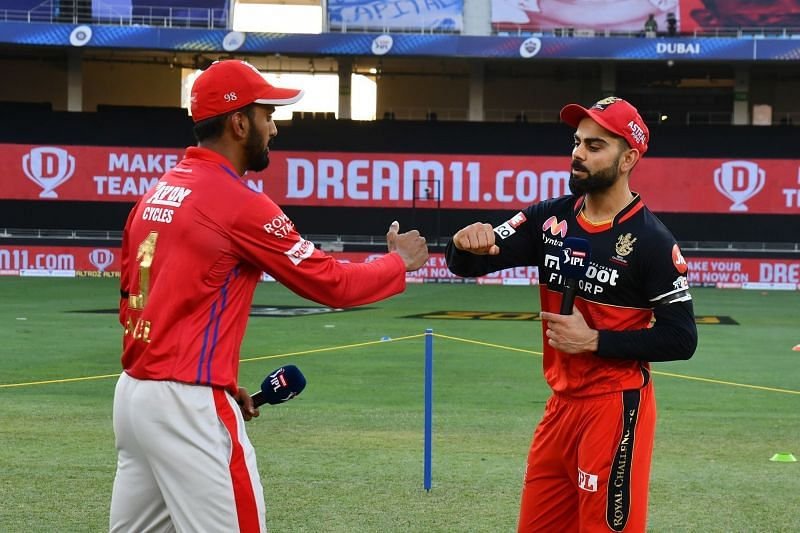 PBKS and RCB: Punjab Kings was finally able to get back to winning ways as they dismantled the table-toppers emphatically, thanks to a fine all-round performance of the night. With three changes to the side, Punjab walked into this difficult clash, considering the blistering form that RCB has displayed in the season until now.
Royal Challengers Bangalore decided to bowl after winning the toss and tasted early success as they were successfully able to disrupt the opening partnership with Prabhsimran Singh heading to the pavilion way too early.
However, that seemed like a blessing in disguise for Punjab as it paved the way for Chris Gayle to take the crease and the Universe Boss was in no mood to sit back today. He started his hammering way too early that saw Punjab sailing through the powerplay in flying colours.
A blistering partnership between Rahul and Gayle propelled Punjab to 99 within just 11 overs. However, Daniel Sams tricked Gayle into miscuing his effort that landed in the safe arms of AB De Villiers.
Nicholas Pooran's fiasco at IPL 2021 continued as he registered another duck which turned out to be the fourth duck of the season. Deepak Hooda and Shahrukh Khan couldn't offer any more resistance as they departed in quick succession leaving Punjab stranded in a state of quandary.
Rahul realized that if he didn't take over the reins, Punjab would slide into a further whirlwind of entropy that will edge them towards another defeat. He got ample support from debutant Harpreet Brar who knocked over an impeccable inning of 25 from just 17 deliveries, helping KL Rahul to continue with his onslaught.
The duo stitched together a brilliant stand of 61 runs from 32 deliveries that helped Punjab chronicle 179 runs on the board. KL Rahul smacked 91 runs from 57 deliveries that inspired hopes for Punjab.
The Punjab bowlers started on a decent note as they were able to remove an in-form Devdutt Padikkal in no time which was followed by some disciplined bowling that kept Bangalore contained in a jail.
Chasing a target of 179, they could only manage 62 from the first half of the innings and in an attempt to break free from the jail, Virat Kohli was castled by Brar in a dream run with a scorching delivery.
The man who was relishing a laugh for the day, Harpreet Brar chronicled impeccable statistics as he got rid of Virat Kohli and Glenn Maxwell in consecutive deliveries.
Wickets kept on falling as Bangalore could barely arrest any momentum with the last bit of storm coming from the bat of the tournament's most successful bowler until now, Harshal Patel who fired a rollicking 31 from 13 deliveries.
KL Rahul and Harpreet Brar's combined effort was too scintillating for Bangalore to challenge
The Punjab captain, KL Rahul played some exotic strokes that found the gaps at the right moments and a few big hits were played with clinical precision en route to his unbeaten 91. He initially played an anchoring role that saw Chris Gayle imposing the bigger part of the damage. However, things got a bit ruffled when wickets started falling in quick succession. Rahul spearheaded the charge with some blistering batting and was provided the perfect support from Harpreet Brar who chipped in with a gem of a knock that was breezy and supportive at the same time.
Not only did Harpreet Brar came up with an astonishing performance with the bat, but he also pitched in with four impeccable overs that only leaked 19 runs, awarded him a maiden and picked up three crucial wickets that included the likes of Virat Kohli, Glenn Maxwell and AB De Villiers, a feat that he could keep stored in his heart for eternity to arrive.
IPL 2021: PBKS and RCB – Who won the Man of the Match?
Harpreet Brar was adjudged as the man of the match after a scintillating performance that saw him hammering 25 runs from just 17 balls. He then came back strongly after being smacked by Virat Kohli for a 6 and a 4 as he kissed his timbre with a peach of a delivery.
He then followed it up with another couple of gems that claimed AB De Villiers and Glenn Maxwell and made it a night for the youngster to remember. Post the game, Virat Kohli walked up to Brar and congratulated for the phenomenal performance that left the Challengers derailed momentarily.