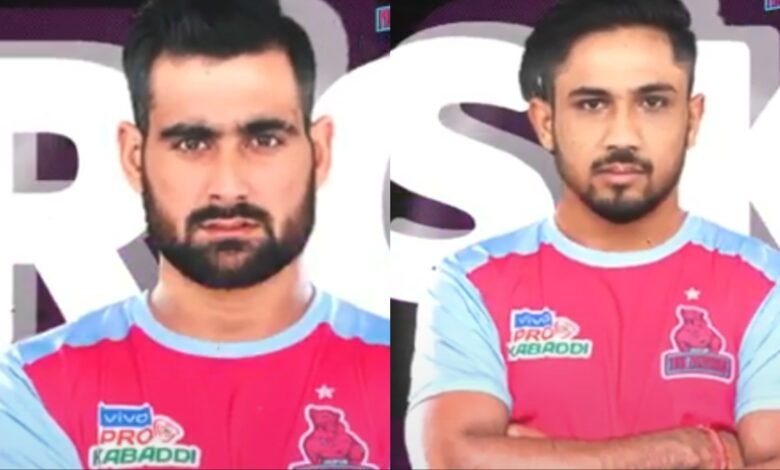 Jaipur Pink Panthers have declared their full list of players for Pro Kabaddi League 2022. They have shown stellar consistency throughout the span of the tournament and the kind of aggression that they bring to the mat is absolutely ruthless and unparalleled. They finished in the eighth position of the points table in the preceding season but missed out the playoff spot by 3 points that would probably seek even harder performances from the team.
They won the maiden edition of the tournament in 2014, trumping over U Mumba in the PKL final. Sadly, post the maiden edition of the tournament, they failed to replicate their success in the initial season and ended up on disappointing terms in the context of points.
Here is what the current squad of Jaipur Pink Panthers looks like after the PKL auction
Celebrations, passion and purpose drive the #PantherSquad to victory! 🙏🏻💪🏻#ArjunDeshwal #DeepakR #SahulKumar#JaiHanuman #TopCats #JaipurPinkPanthers #JPP #Jaipur #vivoProKabaddi pic.twitter.com/hQzYVUC82p

— Jaipur Pink Panthers (@JaipurPanthers) August 16, 2022
However, the latest edition of the PKL auctions would once again be blowing back hope in the team as they take the mat for the latest edition of the tournament. The shuffling for the teams was quite resonant and the new changes would be quite significant to watch out for.
When we talk about the PKL auction, it is needless to say that all eyes will be on Arjun Deshwal who sprinkled his stardust across the mat in the preceding season, bagging 16 Super 10s and a staggering haul of 267 raid points. The Panthers will be pinning their hopes on this big man if they are to get back on track.
Another crucial name for the Panthers would be Ajith V Kumar whose exploits have been equally noteworthy and the duo of Ajith and Arjun can be an absolute nightmare for any given opposition. Add to that another heavyweight called Rahul Chaudhari who has been mainly snubbed by the other franchises and would be hoping to get his momentum rolling in the ongoing edition of the tournament.
The duo of Woosan Ko and Riza Margheri can be another crucial couple of names to watch out for, given their significant physical stature, and eye for blood on the mat. Here is the entire squad for Jaipur Pink Panthers in the ongoing season.
Full list of players in Jaipur Pink Panthers team for PKL 2022
There is strength in numbers. Check out Sunil Kumar PKL stats! #SunilKumar#PantherSquad #JaiHanuman #TopCats #JaipurPinkPanthers #JPP #Jaipur #vivoProKabaddi pic.twitter.com/ugu6pa118D

— Jaipur Pink Panthers (@JaipurPanthers) August 14, 2022
Ajith V Kumar – raider
Arjun Deshwal – raider
Rahul Chaudhari – raider
Devank – raider
Bhavani Rajput – raider
Navneet – raider
Nitin Panwar – raider
Sunil Kumar – defender
Woosan Ko – defender, left cover
Abhishek KS – defender, left cover
Ankush – defender, left corner
Ashish – defender, left corner
Deepak – defender, right cover
Sahul Kumar – defender, right corner
Riza Mirbagheri – defender
Lucky Sharma – defender, right corner
Nitin Chandel – defender, right corner
Rahul Gorakh Dhanawade – all rounder