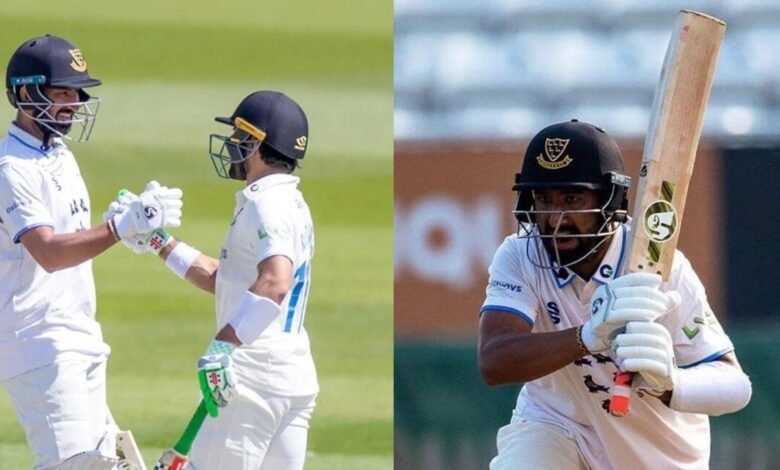 Pakistan cricket team's wicket-keeper batter Mohammad Rizwan has named his top three picks for the batters having the highest concentration and focus levels. The two skills which help a batter achieve success in any format of the sport, especially the longer format are focus and concentration. Rizwan said that Fawad Alam held the second place in his list, but now India's Cheteshwar Pujara holds the second position.
Rizwan played together with Cheteshwar Pujara for Sussex in county cricket. The Pakistan cricket team star became a fan of Pujara's focus and concentration levels as he handed him second place on his list. Former Pakistan cricket team batter Younis Khan is the best batter in terms of focus and concentration according to Rizwan.
Here's what the Pakistan cricket team star said in an interview with Crick Wick:
"In my life, the player with the highest levels of concentration and focus I have seen is Younis bhai. So No. 1 is Younis bhai. After that, it was Fawad Alam but now Pujara is No. 2 and Fawad Alam No. 3."
Mohammad Rizwan says he has not had a chat with Fawad Alam about concentration and focus
Further discussing how he has had chats with Cheteshwar Pujara and Younis Khan regarding this, Mohammad Rizwan said that he has not had much of a conversation with his countrymate Fawad Alam regarding the same.
"I try to find out what makes these three guys so good in terms of their focus and concentration. I keep talking to Younis bhai about this. With Fawad, I haven't talked a lot about this."
Rizwan concluded by saying that he had a chat with Cheteshwar Pujara regarding focus and concentration when he had just come to England for county cricket. It will be interesting to see if there is a difference in the batting performance of Rizwan after the county season.