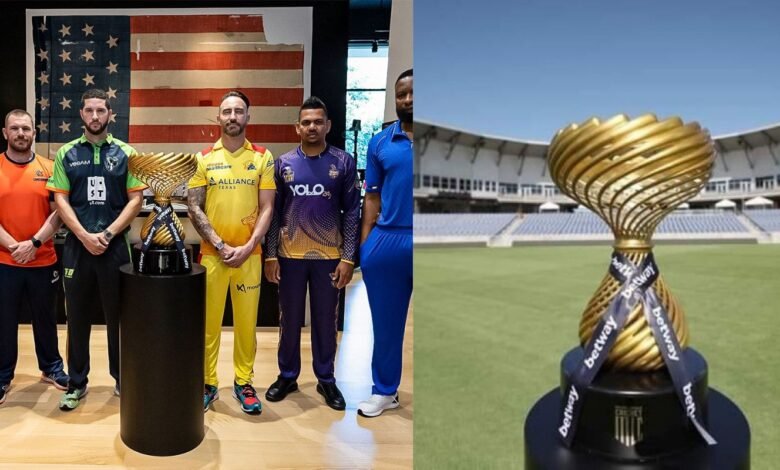 The first season of Major League Cricket will start on July 13th. Cricket in the USA is growing and it is important that this tournament finds success. On that note, here, we take a look at the streaming and TV broadcast details of Major League Cricket in India, Australia, England and the United States of America.
Streaming and TV broadcast details of Major League Cricket
Viewership is the main parameter that drives the T20 leagues. One of the major sources of avenues for the IPL is TV and digital rights. The new leagues, as well, have been following the same model. Each tournament must have top players and quality cricket on display to attract viewers. Some other factors such as match timings will also affect the viewership in this regard.
Therefore, it is very important for MLC to find success and gain good ratings on TV and OTT. India will, of course, be a top market for the tournament but the match timings may not suit the viewers. Here is how you can watch the tournament in top cricketing nations:
India: TV Broadcast on Sports 18 and Live Streaming on Jio Cinema
Australia: TV Broadcast on FOX Cricket and Live Streaming on FOXTel
UK: TV Broadcast on BT Sports and Live Streaming on BT Sports
USA: TV Broadcast on Willow TV and Live Streaming on Willow TV
We're getting close to that 2️⃣4️⃣ hour mark ⏳

The six team captains helped to reveal our #MajorLeagueCricket Championship trophy today at the Hillwood Corporate Offices in Dallas 🤠 🏆

Learn what they had to say about cricket launching in America 🇺🇸 ➡️ https://t.co/ILzozNuNqx pic.twitter.com/hMOFVZSSN6

— Major League Cricket (@MLCricket) July 12, 2023
When to watch MLC 2023 on TV and OTT?
The first edition of the competition will start on July 13th and will go on until the 30th of July. Most of the games will start at 7:30 PM Local Time in the United States of America. Fans across the globe will have to stay updated about the match timings with the local broadcasters. In India, while the night games start at 6 AM, the day games start at 3 AM.
🎟️ 𝐀𝐃𝐃𝐒 𝐓𝐎 𝐂𝐀𝐑𝐓 🛒

📅 July 13-30, 2023
📍 Grand Prairie Stadium – Grand Prairie, TX
📍 Church Street Park – Morrisville, NC

TICKETS ARE ON SALE NOW 👉 https://t.co/Ya9VThvMSR pic.twitter.com/xaIthzCzJp

— Major League Cricket (@MLCricket) June 12, 2023