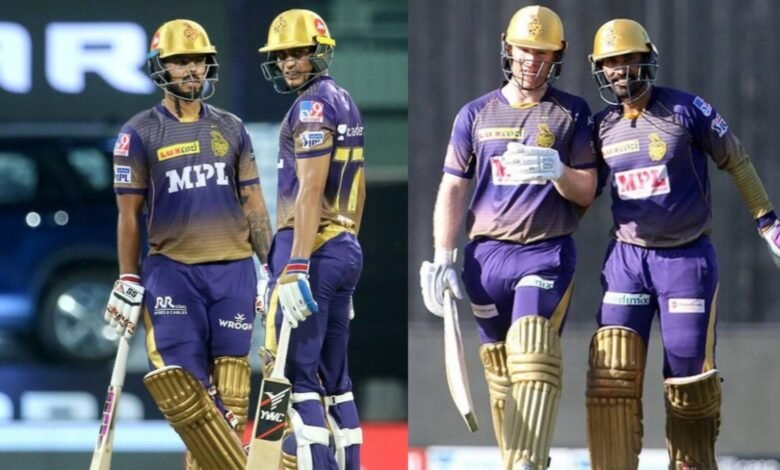 The second phase of IPL 2021 is almost upon us and within ten days from now, the Indian cricket fans will have another reason to hook themselves to the television.
The tournament had to be stopped midway after a bio-bubble breach that resulted in multiple players and staff testing positive for the Coronavirus. However, after taking everything into due consideration, BCCI decided to complete the tournament midway in the small pocket of space that they managed to secure between India to England Test series and the T20 World Cup.
As IPL 2021 returns, multiple speculations have already started surrounding the likes of the best starting eleven that a team can field in the upcoming instalment of the tournament. In this story, we will take a quick look at the probable starting XI of Kolkata Knight Riders as they resume their journey on September 20th against Royal Challengers Bangalore.
The team is ailing in the seventh spot as they have managed to win just two games from their seven fixtures and to make matters worse they will not be getting the services of their star all-rounder, Pat Cummins, as he has withdrawn from the tournament. KKR announced New Zealand fast bowler, Tim Southee as a replacement who will be returning to the tournament for a second stint.
Openers: Shubman Gill and Nitish Rana
Gill has struggled in the ongoing edition of the tournament and even though he will be fresh from his shin injury, a lot will rely on him. He led the KKR batting unit in terms of runs in a preceding couple of editions and will have to fire again if KKR is to look for a strong start in the powerplay.
Nitish Rana has blown hot and cold in the tournament so far, but the hard-hitting southpaw has considerable experience up his sleeve and has been one of the brightest sensations in an otherwise marred KKR batting line-up. He has managed to garner 201 runs from 7 games so far in the current campaign.
Middle-order: Rahul Tripathi, Eoin Morgan, Karun Nair, Andre Russell, Dinesh Karthik(wk)
Rahul Tripathi has been fairly inconsistent but has been promising on occasions in  IPL 2021. Not only has he been dynamic, but he has managed to play a few decent innings, helping KKR to keep their scoreboard respectable. More importantly, he has been Kolkata's best fielder in the tournament and will continue to be a mainstay.
Eoin Morgan was finally confirmed after a lot of doldrums and the shift of the Bangladesh tour to 2023. He is one of the dominant forces for KKR, even though he has failed terribly in the ongoing season. A lot will depend on him because of his preceding year's performance in the UAE.
In the midst of an ongoing tempest in the batting echelons of Kolkata, they have lacked the sting to produce an anchor who could stabilize the innings. Karun Nair can be the key to this problem as he can hold the innings in a piece and then accelerate towards the end of the knock as his strike rate in T20 reads 131 plus.
Here comes the muscle man for Kolkata, Andre Russell. Kolkata will be hoping to get a lot more from the big man of Jamaica, as he blasted the fastest half-century of CPL. Sadly, for him, he has seemed exceptionally reticent post that knocks. However, his unbeaten 20 and a quickfire 28 will instil KKR with hopes. He has also proved to be a crucial bowler for KKR in the death overs and with 163 runs and 7 wickets under his belt, Kolkata will bank a lot on him.
Dinesh Karthik will be returning to cricket after a long time as a cricketer. His commentary stint was absolutely sublime and now he will be focusing on getting the team to play their very best as they will have their task cut out to reach the play-offs. He has managed 123 runs from 7 games and will have to take a lot of responsibilities to get a beleaguered batting line-up back in shape.
Bowlers: Sunil Narine, Shivam Mavi, Prasidh Krishna, Tim Southee
Sunil Narine hasn't been the same ever since he was compelled to change his bowling action after Kolkata's victory against Kings XI Punjab in the 2020 IPL. His batting has devolved considerably after Kolkata experimented overtly on him. He would be the best fit for number 6 or 7 as his primary role as a batter is to accelerate without any further strategies. In bowling, he will be extremely crucial as the party arrives in the UAE because of its bowling-friendly surfaces. IPL 2021 will be a new challenge for a man in the twilight of his career.
Tim Southee is also known as a considerable batting option, and this can actually help KKR to improve their batting ranks with such deep-lying batters. More importantly, he is one of the most eminent swingers of the ball, and his proclivity towards taking wickets will make him a perfect sub for the withdrawn Pat Cummins.
Shivam Mavi will most likely be restored, as he has so far impressed with the ball in the hand. A good old-school fast bowler clocking 140 plus clicks regularly will make a significant UAE on the surfaces of the UAE. His knack for wickets makes him a genuinely great option for Kolkata.
Prasidh Krishna has established himself as a regular wicket-taker as he has managed to claim eight wickets so far, starring in all the matches that he has played for KKR in the ongoing season. However, there is a counter side to this as he is also one of the most expensive bowlers in the tournament. This is a risk that KKR will have to take in order to accommodate Krishna. Given their other bowling apparitions, he seems to be the best bet for Kolkata currently.