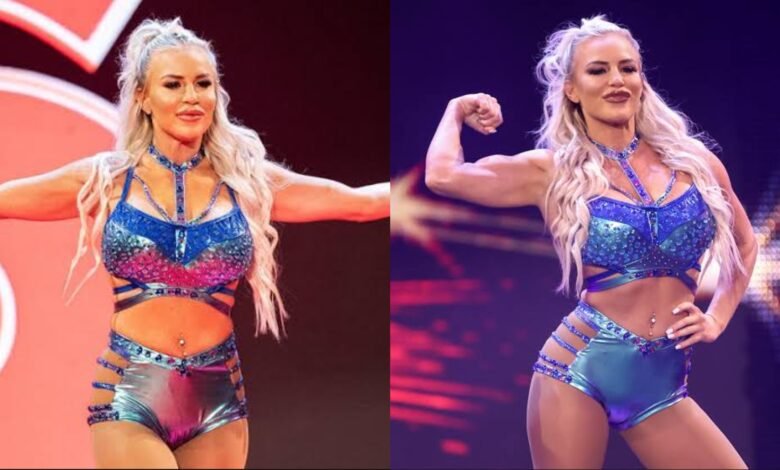 Dana Brooke has been a substantial name in the Divas section has enforced herself with the towering muscles leaving the opponents frayed and tugged. When she received her first push in the main roster, it wasn't particularly the time for those rugged female characters who would put life into the soft and tender Divas section.
Dana has always played by the lines of the extremes. She has been a force to reckon with and at the same time she has been the romantic and yet tender personality who would not hesitate in showcasing her delicate side when it comes to her closed ones. Delicate or not, she has made all the right noises in the ring and as time goes by, with every passing day, Dana Brooke is being loved by the WWE Universe more and more.
Here are five facts that you need to know about Dana Brooke:
#1 Before switching her allegiance to gymnastics she has been an abled diver
@DanaBrookeWWE has been showing up and showing out for over 8 years now, and is yet to given an opportunity to challenge for a women's world title, it's already time to pull the trigger! #UntappedPotential pic.twitter.com/UlhjT33MJr

— Jugsss ✨ (@itsmejugal_) January 31, 2023
Before she took on the roles of the body builder and eventually wrestling, she had two major changes in her career path. She was one of the most flexible women in gymnastics as she rolled and rumbled in the sport for 18 years before an injury forced her out. However, before she set foot in gymnastics that introduced her to the world of fame, she was a very adroit diver, doing major rounds in the arcade of waters.
#2 Dana Brooke has ruled the roost of bodybuilding with an iron fist
Looking at Dana's physique, even the most non-ardent wrestling fans would point out that she is exceptionally well built and powerful. In fact, such has been her stature that she has even drawn comparison with Chyna and Rhea Ripley. The result that she is now is a product of her winning several body-building championships.
#3 She had to wait for 3 years before she finally got promoted to the main roster
She signed a contract with WWE in 2013 but had to wait until 2016 before her fortune finally opened up. She kickstarted her WWE career in the main roster, ambushing Becky Lynch and eventually sparking a rivalry that was in place for a very short span of time. The biggest feud that she has had until now is with Charlotte flair and somehow that has also proven to be a pretty short one.
#4 Dana is one of the most hardworking performers in the WWE main roster
Always got @EmmaWWE ! Nothings changed https://t.co/pRKrYwJ4PI

— Dana Brooke WWE (@DanaBrookeWWE) January 30, 2023
Despite not being given the push for a while now or even a rock-solid rivalry, Dana likes to sweat it out immensely in the gym and the ring. She almost turns up regularly earlier than the other stars, sets up the rings, gets into it, rolls with her last drop of sweat and then is usually the latest to leave the building.
#5 Dolph Ziggler was one of her love interests
Graham Mirmina of Sportskeeda noted that Dolph had her fair run with women in the professional wrestling circuit but the longest he has had been with some one is Dana Brooke. Maybe all that she needs is a little push and you never known what follows next.