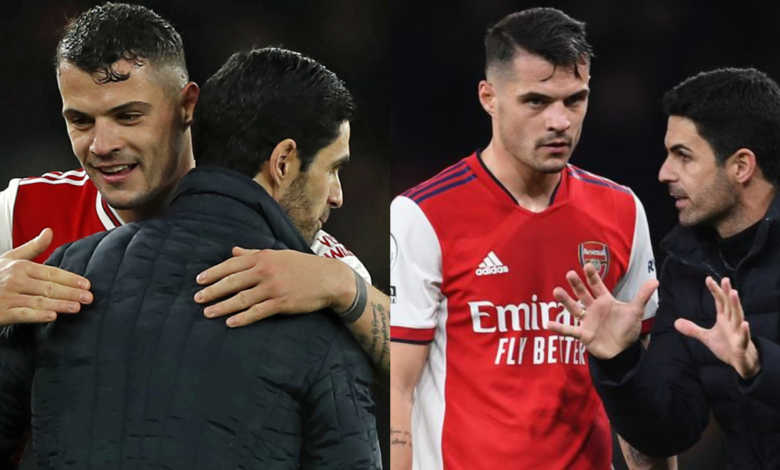 Mikel Arteta Wants Focus On Arsenal's Quest For Premier League Title Despite Speculations Surrounding Granit Xhaka's Future
Arsenal's veteran midfielder Granit Xhaka has been a crucial part of the Gunners' first-team squad since he joined from Borussia Monchengladbach in 2016. However, with his contract set to expire next year, there has been speculation that the Switzerland international could be sold this summer. 
According to a recent report from the Daily Mail, Arsenal are prepared to listen to offers for Xhaka as well as full-back Kieran Tierney. But Arsenal manager Mikel Arteta has made it clear that he wants to keep his focus solely on Arsenal's pursuit of the Premier League title and does not want any speculation surrounding Xhaka's future to distract the team from their objective. 
Arteta has been impressed with Xhaka's performances this season, and he believes that the midfielder has been having his best season so far with the club. In an interview with reporters on Friday, Arteta said, "I'm not going to reply to certain stories about Xhaka. I'm extremely happy with Granit, he's having an incredible season. This is probably the best season he's had at the club. We are really happy to have him."
With only three Premier League games left to play, Arsenal is still in the race to win the title. However, defending champions Manchester City is currently ahead of them by just one point. Therefore, all the focus must remain on finishing the season as strongly as possible. Arteta is aware of the importance of every game at this stage of the season. He knows that the team must avoid any distractions that could hamper their chances of success.
Xhaka's Importance to Arsenal
Xhaka has been a key player for Arsenal this season, featuring in 33 Premier League games and providing seven assists. He has been an integral part of Arteta's midfield and has played a crucial role in Arsenal's push for the title. Xhaka's ability to control the tempo of the game and his accurate passing have made him an essential component of Arteta's tactics.
Despite facing criticism from fans in the past, Xhaka has improved his performances this season. His recent displays have been exceptional. He has been an important player in the team's recent success and has contributed significantly to Arsenal's unbeaten run in the Premier League.
Arteta's Management Style
Arteta's management style has been impressive since he took over as Arsenal's manager. He has instilled a sense of belief and discipline in the squad, and his tactical nous has been evident in Arsenal's recent performances. He has been able to get the best out of his players. Xhaka is a prime example of this. Arteta has been able to unlock Xhaka's potential and has given him the freedom to play to his strengths.
Arteta's approach to management has been lauded by his players. His ability to create a positive atmosphere in the dressing room has been crucial to the team's success this season. The Spaniard is a keen student of the game. His attention to detail has been evident in the team's performances on the pitch.
In other news Newcastle United is giving their all to sign the €70 million rated midfielder