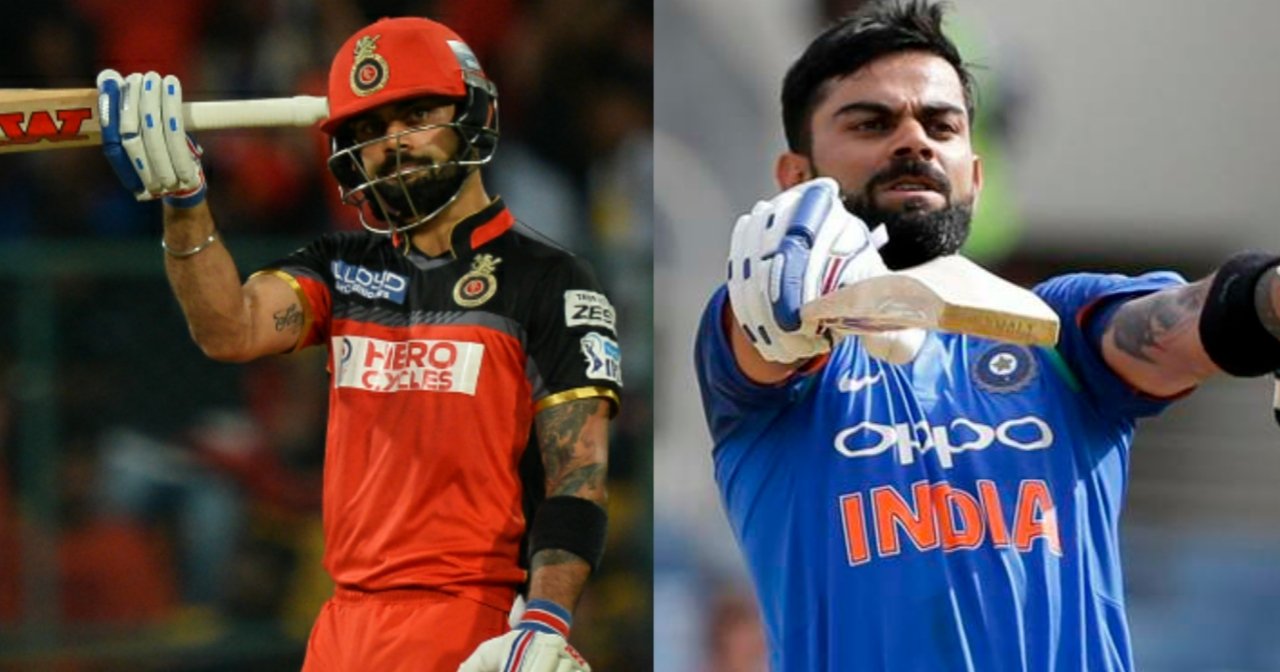 The Indian captain – Virat Kohli who missed the last three Tests against Australia will be back in action during the home Test series against England. All the Indian fans will be waiting to see him back in action and score big runs against England. Virat Kohli who also captained the India U-19 team in 2008 and won the U19 World Cup has set and broken many records in his international career.
He is one of those players who performs consistently in all three formats. He seamlessly changes between Tests and T20Is and just keeps on scoring runs irrespective of the format. Virat Kohli has set some records which are going to be extremely difficult to break for any cricket player. So, let's have a look at five such records of the Indian captain that will be difficult to break.
5. Most double centuries as Test captain
Virat Kohli who started captaining India in the Test format in 2014 has scored 7 double centuries in just seven years. In fact, he scored his first double hundred against West Indies in 2016. After his first double hundred, he scored three more in three consecutive series. In a home series against Sri Lanka, Kohli scored two double centuries in two consecutive Tests.
He broke the record of Brian Lara who had five double centuries as Test captain. No other batsman is even close to him and it will take a special player to break this record of most double centuries as Test captain.
4. Fastest to 10000 ODI Runs
Virat Kohli who has scored more than 12000 ODI runs holds the record for being the fastest to 10000 ODI runs. He is also the fastest to 11000 and 12000 ODI runs. He reached the milestone of 10000 ODI runs in just 205 innings whereas the previous best was from another Indian legend who took 259 innings.
There is a difference of 54 innings which tells you a story. Everybody doesn't score 10000 ODI runs and scoring it at such a quick rate is commendable. Some players might come close to this record but breaking this record will be extremely difficult.
3. Most centuries in an IPL season
If a batsman can score one century in an IPL season then it is a great thing. There have been players who have scored two which include – Shane Watson, Hashim Amla, Shikhar Dhawan but Virat Kohli went one step ahead and scored four in one season. The RCB captain went on to score 4 centuries in IPL 2016 which is an incredible achievement.
One of those centuries came with a fractured thumb in a 15 over game against Kings XI Punjab. It is just unimaginable to think of four centuries in an IPL season because scoring a century in the shortest format is not an easy thing. Scoring five centuries in an IPL season is almost impossible and hence it is going to be difficult to break this record.
2. Most ODI centuries while chasing
Virat Kohli who is also known as the chase master likes to score an ODI century while chasing as if he is having breakfast. Virat Kohli has scored more than half of his ODI centuries while chasing under pressure. Kohli has scored 26 ODI centuries while going after the target and the second best is Sachin Tendulkar with 17.
Kohli still has a lot of cricket left in him and that number might go above 30 which means he is setting the bar so high that others can't even look at those numbers. The chase master will be hoping to reach the milestone of 50 ODI centuries as early as possible.
1. Most runs in an IPL season
If a batsman scored 400 runs in an IPL season it is a good season, if he scores 500 runs then it is a great season, if he scored 600 runs then it is an excellent season. Mike Hussey and Chris Gayle had scored 733 runs in a season but nobody thought that a batsman can score more than that. Virat Kohli scored 973 runs in IPL 2016 and shattered all the records.
The next best is 848 from David Warner in the same season. If anybody wants to break this record then he will have to score close to 1000 IPL runs in a season which is virtually impossible. There is a high chance that this record of the most runs in an IPL season is never broken.