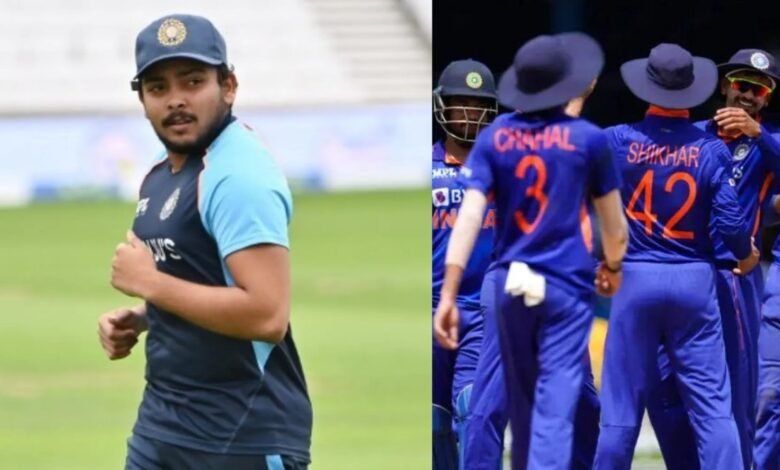 In recent years, Team India's selection strategy has given a lot of importance to fitness. In the past, India has suffered on the pitch due to the absence of fit cricketers. Hence, techniques such as the Yo-Yo Test were incorporated to have a more dynamic team on the field. However, in this aspect, a few players are still struggling. Therefore, they are yet to get their due in the blue jersey. If not for their fitness problems, they could have had a great chance to cement their spot in the Indian XI. On that note, here, we take a look at four players who could have been in the current Indian 11 if not for fitness issues.
1) Prithvi Shaw – ODI & T20I XI
Prithvi Shaw, as a teenager, rocked the domestic circuit and he even did well in the U19 World Cup for Team India. Hailing from the traditional Bombay cricket circle, Prithvi Shaw was predicted to become the next big thing in Indian cricket. The start of his Test career was also brilliant. However, it all went downhill since then.
That said, Prithvi's numbers in the List A and T20 format are excellent. While he enjoys a strike rate of over 150 at an average of around 27 in T20s, in the 50-over format, his strike rate and average are 123 and 52 respectively. Considering India needs openers with intent at the top, it is surprising that Prithvi has not been given a consistent run till now. All boils down to his fitness standards, which are not seen as excellent. Therefore, he is struggling to make it to Team India.
2) Rahul Tewatia – T20I XI
Rahul Tewatia is one of the players who could have been in the current Indian 11 if not for fitness issues. Against England last year, Tewatia was selected for the Indian Team. However, he was ruled out due to fitness problems and was never selected for the squad again.
In Tewatia's case, too, it is more due to his fitness that he is struggling. Although he has done well in the IPL in finishing close games, he has not done enough with the ball. That said, in domestic cricket, he has shown that he can leave an impact with the ball, too. Despite these factors, the Haryana cricketer is yet to make his India debut.
3) Varun Chakravarthy – T20I XI
In IPL 2020 and IPL 2021, Varun was in top form. Representing Kolkata Knight Riders, he collected 17 and 18 wickets respectively in these two seasons. In both cases, his economy was under 7.
Varun also had to wait pretty long for his debut because of his injury concerns. When he did play for India, he was lacklustre. Since then, there was a bad opinion about his fitness standards and he never got a chance to play for India. If not for this aspect, he would have certainly got a few more chances to prove his case.
4) Sarfaraz Khan – Test XI
Sarfaraz is also one of the players who could have been in the Indian 11 if not for fitness issues. It is too early to comment about Sarfaraz not making his India debut, so far, but it looks like his fitness might haunt him, as well.
The Mumbai batter enjoys an average of 81 in FC Cricket. He has smashed all the bowlers around but is yet to break the doors of the Indian Team. Yes, the Indian Team has not played a lot of Tests in recent years but even for the Bangladesh assignment, Sarfaraz has not got his chance. The player could give himself more chances if he becomes fitter in the coming years.