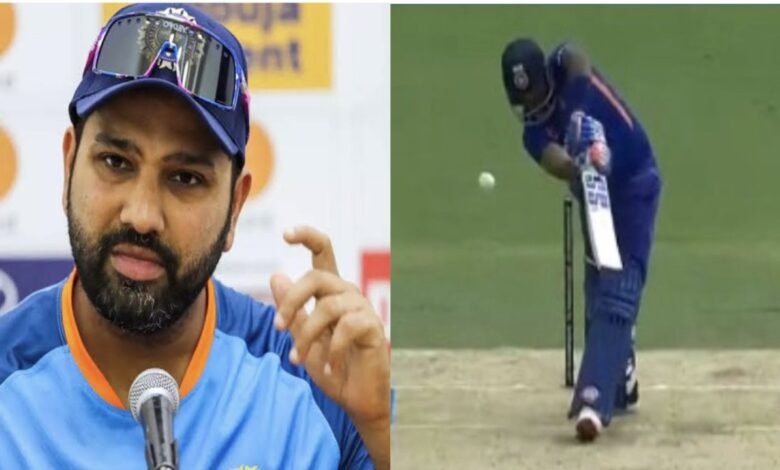 Fans on Twitter reacted after Indian skipper Rohit Sharma backs Suryakumar Yadav despite a poor run in ODIs, saying that the batter has potential and will be given a longer run. They correlated the statement with what he used for KL Rahul before dropping him from the Test side and speculated that the same will happen with Suryakumar.
Rohit Sharma backs Suryakumar Yadav after he bags two consecutive golden ducks in the ODI series against Australia
The ongoing series between India and Australia has been a torrid one for Suryakumar Yadav. The batter has failed to score runs in both games and has revived a lot ok skewering for his performances.
In both games, Suryakumar was trapped in lbw by Mitchell Starc for a golden duck. The in-swinging delivery of the left-arm pacer has troubled him. In the two games, the batter tried to go for an on-drive and was beaten on the inside edge. The ball struck him below the knee roll on the front pad adjacent to the sticks.
It's fair to say that Suryakumar has failed to replicate his T20 heroics in the ODIs and his place too has come under scrutiny, especially with Sanju Samson on the sidelines not getting chances.
Following all the criticism, skipper Rohit Sharma has come out in support of Suryakumar Yadav. The opener said that they will back the batter as he has potential. Speaking to reporters, he said:
"Surya has shown potential in white ball but he knows he needs to do well in ODI as I said, if one has potential, we need to give consistent run – with Iyer injured, the place is vacant so he is getting a long run".
Fans on Twitter react as Rohit Sharma backs Suryakumar Yadav, saying that he has potential and will be given a longer run
As Rohit Sharma backed Suryakumar Yadav, saying that he has potential and will be given a longer run, fans on Twitter reacted. They correlated the statement with what he used for KL Rahul before dropping him from the Test side and speculated that the same will happen with Suryakumar. Here are some of the reactions:
Exactly the same dialogue before dropping KL for next test. https://t.co/Z8yX2dru4r

— Cover Point (@PointCover) March 19, 2023
The vacant place was never filled with someone deserving as @BCCI looked the other way.

Samson has 330 ODI runs in 10 inn, 2 50s with 66 avg at 102 SR without a consistent run.

Yes, not outs played a role in his avg but his 3 NO scores were 43, 86, 30 out of 5. https://t.co/ZbQN3vABh9

— Rajeesh Nair 🇮🇳 (@iRajeeshNair) March 20, 2023
Thats a crappy explanation 🤭.
Just say we are biased, also afraid of own spot https://t.co/XHfEqrZ2Je

— Biju (@bijujohnson) March 19, 2023
guys watch him dropping sky next match👀 https://t.co/Lmm62wwMaG

— joona ♡ (@wtvharinii) March 19, 2023
Excellent. Deserves it and please play him at 6. https://t.co/yPr3TfbYbB

— MK (@KMuRed) March 19, 2023
Yesssssssss. It is only fair that you give him a decent run. This series and the next one too at least. https://t.co/TFDtENrt7i

— Shaidar Haran (@_ShaidarHaran_) March 19, 2023
What about Sanju Samson or Deepak Hooda who can be a part bowler in top 5 which Indian team doesn't have since ages…. https://t.co/ENhz1Tls0y

— Boddu Sathwik (@sathwikboddu) March 19, 2023
It is just not possible

— Sreerag Rajesh (@RajeshSreerag) March 19, 2023
— Mridu ⚯͛ (@mj_alwayss) March 19, 2023
Not for everyone though https://t.co/sjvgTMyDno

— NAVNEETH (@NavneethKarun) March 19, 2023
Place is vacant so he'a IN as if he's the only last player existing for Indian cricket 😭🤡 https://t.co/nkbKpY2aIH

— Yash😊🏏 (@YashR066) March 19, 2023
Matlab drop hone wala hai ab https://t.co/L8gjfcT8hP

— Gambhir𓃵💜💛 (@Karn975) March 19, 2023
Whenever he says these stuffs means the player is going to be dropped next game https://t.co/1stI20uebC

— Halsey🇫🇮 (@Meandmyself017) March 19, 2023
The long run pic.twitter.com/bFDez6MfsQ https://t.co/niPpnTJOG6

— Nish (@nishhfcb) March 19, 2023