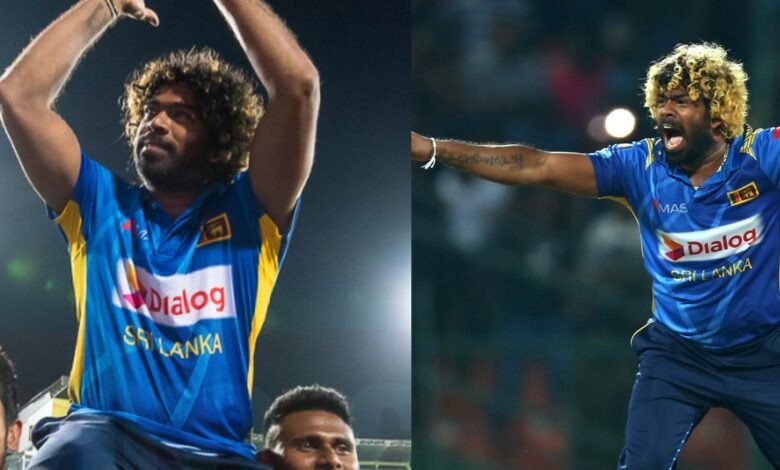 One of the most menacing bowlers in the shortest format of the game chose to pull the curtain on his career today leaving behind an overwhelming legacy as Lasith Malinga called it a day.
The man terrorized batters with an extraordinary brand of mix that saw toe-crushers and rib-wreckers dance in unison to rattle the spirits of the best.
Once he was pulled off from the international assignments, it was just a matter of time for him to pull the plug on his glittering career that brought down dynasties at will.
Lasith Malinga in a new role
Lasith Malinga was seen in a new role recently, where on his YouTube channel he was dissecting Sri Lanka's performances in their latest T20 affairs. That is where he dropped the bomb that left cricket fans with a heavy heart that he will no longer be a part of any form of cricket.
He pulled out of various franchise tournaments including the IPL previously as he wanted to keep himself preserved for that one last dance, but after being omitted from the national side for the imminent biennial extravaganza, he decided that it was time for him to hang the boots.
In a video on his YouTube channel, he quoted, "Today I decided I want to give 100% rest to my T20 bowling shoes," he said. "I want to thank each and every one who supported me and blessed me throughout my T20 journey." Malinga went on to thank the officials and teammates of all the major teams he has been a part of, from the Sri Lanka national side to Mumbai Indians, Melbourne Stars, and various other sides from around the world."
The end of a splendid white-ball career 👏👏👏 pic.twitter.com/XPSgsDgc2A

— ESPNcricinfo (@ESPNcricinfo) September 14, 2021
Malinga's career at a glance
He belonged to the early days of wild experimentations in T20 cricket, where his wide-arm action would slingshot the messengers of devastation against the dreamy batters and leave them writhing in agony.
His variegated arsenal comprised those deadly toe-crushing inswinging yorkers, slow bouncers and the notable wide yorkers that eventually emerged as one of the biggest weapons against hard-hitters of the game.
His white-ball career saw him rack up glory like no other fast bowler, as he snapped up 390 international wickets at an economy rate of 7.07. His best bowling figures of 6 wickets for 7 runs is still deemed as one of the most impressive showdowns in international cricket.
Not once but in his white-ball career he pulled off the heroics of claiming four wickets in four consecutive twice.
Twitter was left heartbroken as they expected that this man would get one final T20 to announce his retirement. Sadly, for the trailblazer of the wide yorker, he had already seen his swansong.
Lasith Malinga undoubtedly defined a generation of T20 bowling. And probably the first bowler I fell in love with. Thank you and farewell legend! Go well! #NewCoverPic pic.twitter.com/Y4TSu1ZehS

— Chetan (@Chetan__Anand) September 14, 2021
Lasith Malinga's retirement marks an end of a golden era of Sri Lanka Cricket. I believe he's the last piece of that magnificent cricket team we had with the likes of Sanga Mahela & Dilshan. Farewell Legend ❤ #ThankYouMalinga #Yokerking pic.twitter.com/rRUemHmwg7

— ச. டினோஜன் 🇱🇰 (@Chandinoj) September 14, 2021
Best of luck in your retirement Lasith Malinga, some amazing battles over the years 👊 pic.twitter.com/qCMu4ZXKnu

— England's Barmy Army (@TheBarmyArmy) September 14, 2021
Lasith Malinga has retired. He is one of the greatest white ball cricketers, the best yorker bowler in history & one of the game's most iconic players. Malinga's unique round-arm action gave him an advantage with bowling yorkers. This is an extract from Cricket 2.0. pic.twitter.com/o01PrEcS8t

— Freddie Wilde (@fwildecricket) September 14, 2021
#LasithMalinga announces his retirement today 😢

He will always be remembered for his toe-crushing yorkers!

What a legend of the game! 🔥

Thank you Lasith ♥️ pic.twitter.com/Mh45w6PeGH

— Thyview (@Thyview) September 14, 2021
🔹Most men's T20I wickets of all-time
🔹2014 World T20 winning captain
🔹3 ODI hat-tricks
🔹2 T20I hat-tricks
🔹Most wickets in IPL history
🔹IPL champion x4
🔹One of the most recognisable actions of all time

Lasith Malinga, an all-time white-ball great, retires today. pic.twitter.com/wbjO1Htb0s

— Wisden (@WisdenCricket) September 14, 2021
Lasith Malinga in IPL

– Most Wickets (170)

– Most 3fers (19)

– Most Wickets against an Opponent (31 v CSK)

– Most Wickets in Won matches (122)

– 1st to Pick 100 & 150 Wickets in IPL

– Only bowler to pick 20 Wickets in 4 different IPL Seasons

(1/3) pic.twitter.com/uJ4f3XD1t6

— S H E B A S (@Shebas_10) September 14, 2021
Lasith Malinga's Legendary 4 balls 4 wicket 🙌
Thank you Malinga ❤️ pic.twitter.com/TpA7AtBMbK

— Girish (@ViratkohliFabb) September 14, 2021