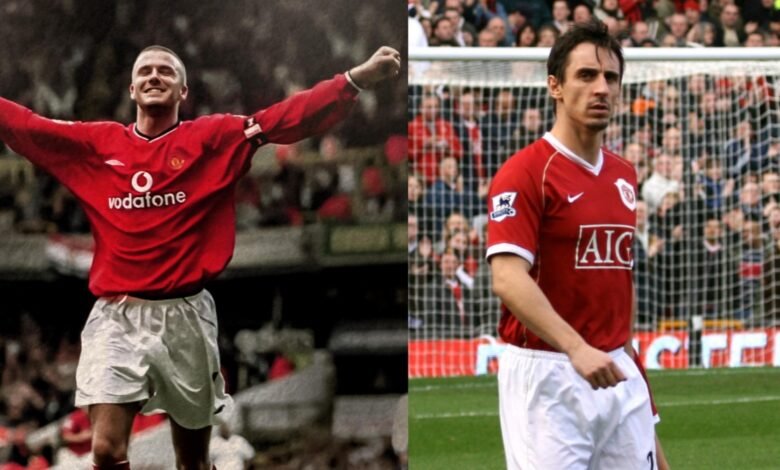 If Manchester United's holy trinity of George Best, Denis Law and Sir Bobby Charlton was the prelude to the forthcoming madness, then the era that started under Fergie in the '90s was the madness itself. A bunch of aspiring youngsters with dreams in their eyes, hunger to conquer the world and swagger up their sleeves came to the fore.
The plane that went down in 1958 didn't just give birth to a few players with indomitable mentalities, but it also spawned the sacred "United" spirit. A spirit that never knew the meaning of giving up, a spirit that always wanted to come back, that always wanted to keep going on and on, come hell or high waters.
Fast-forward 40 years and Manchester United was writhing in agony as a bloke who arrived from Aberdeen called Alex Ferguson could hardly manage something notable. It felt that it was time to pull the curtain on another forgettable chapter of a failed preceptor at the Old Trafford.
That is when things changed and a new dream started taking flight. Almost teetering along the fringes of a sack, Fergie went into a FA Cup match against a soaring Nottingham Forest in the 1989-90 season and United managed to pull off an absolute watershed when Mark Robins' solitary strike of the night turned things around.
Following a remarkable victory in the FA Cup final replay against Crystal Palace, United started improving by leaps and bounds, and that heralded the onset of an era that would mark the greatest uprising by a football club against the established dynasties of Europe.
In this story, we will try and forge a team of the best XI at Manchester United for the decade spanning between 1990 and 2000.
Goalkeeper: Peter Schmeichel
Schmeichel spent a staggering 22 years on the football pitch plying his trade for several notable clubs that included the likes of Sporting CP, Aston Villa and Manchester City. However, he rose to global prominence, representing Manchester United for a wholesome 8 years.
After a remarkable run in the international circuit and a few laudable showdowns for Brondby, Manchester United roped the Dane with a lot of expectations. He played a crucial role in Manchester United's treble-winning performance in 1999. He donned the Manchester United cap for an overwhelming 292 matches, creating a legacy so massive that a chosen few would come close.
Defenders: Denis Irwin, Steve Bruce, Jaap Stam, Gary Neville
Denis Irwin was a highly gifted left-back who didn't really get all the recognition that he should have given the glut of successful defenders in his time. He played a staggering 11 seasons for Manchester United that saw him featuring in 460 matches for the Devils. He also went on to score an overwhelming 33 goals that were laced with 23 assists. He was a very strongly built defender and made stellar use of his physicality during his tenure at Manchester United.
If you ever dreamed of seeing a real-life Hulk in action, you can take a look at Steve Bruce when he played for Manchester United. It was a nightmare for the attackers to get past the towering physique lurking deep in the Manchester United rearguard. Though he wasn't a part of the United team for the entire decade, yet he made his presence felt for the four seasons that he was a part of the Devils' squad. He featured in 148 Premier League matches, smashing 11 goals in the process. During his tenure, the club bagged 91 victories and handed over 20 losses. He registered an overwhelming 61 Premier League clean sheets that weren't a cakewalk in those days of brutal football where getting your ankle hacked was commonplace.
Jaap Stam had absolutely zero regard for caution and retreat irrespective of the situation. He believed in hurling himself into his oppositions and the resultant tackles would send the attackers flying and tumbling. He played for four years at Manchester United, where he managed to feature in 79 matches that also see him scoring a goal.
Gary Neville is one of the longest-serving defenders for Manchester United, as his career at Old Trafford spanned 19 long years as he starred in 400 games in the same span. He was not one of your traditional wingbacks who would burst into overlaps and whip in those blitzers for the strikers to head or blast home. He would stand like a rock and cover the entire area in the defensive third to minimize the number of attacks that United would otherwise face.
Midfielders: Ryan Giggs, Paul Scholes, David Beckham, Roy Keane
One of the most prolific and underrated midfielders of all time for Manchester United was the Welsh wizard, Ryan Giggs. Giggsy was altogether a different brand of medio who would easily manage to mix passes and attempt long-range efforts to send the opposition to hell. If you remembered that iconic showdown in the FA Cup semi-final in 1999 against Arsenal where his wonder goal sank the Gunners, you would know that if there was a Messi or Ronaldo in the making in those days at the heart of Old Trafford, it was Giggs.
Drop anything outside the penalty box and park an airbus in front of the goal and ask Paul Scholes to hammer it home, out of the ten chances you would give him, he will score in nine. An insane finisher, a hungry midfielder and a scintillating striker to destroy the opponents at will, Paul Scholes was a beast in his prime. His wonder enterprise against Barcelona was a highlight of the magnificence that he brought along with himself.
Before there was a Ronaldo and Messi curling free-kicks, there was a certain Roberto Carlos and David Beckham bending those crazy free-kicks from range. Not only was Beckham known for his free-kicks, but the scouring crosses that came searing into the box was an absolute delight for the onrushing strikers. Manchester United in the '90s was a team that depended a lot on team-goal instead of individualistic brilliance. Hence, Beckham became indispensable to the line-up.
If Scholes, Giggs and Beckham were the subtle artists of destruction that United inflicted upon opponents, Roy Keane was the gladiator that left the opponents spooked. There is an iconic frame that shows Roy Keane charging at the players of the opposition single-handedly with zero regards for sportsmanship. He was honed into a man who endured zero nonsense and would break a couple of legs without hesitation at all. Keeping the battle cries and skills aside, he also had an impeccable game sense and would carve that million-dollar through that would eventually be destined by the United players in a flash of brilliance.
Forwards: Eric Cantona and Mark Hughes
Unless you are the king of Old Trafford, you do not pull off a pole dance after scoring against Liverpool and if you are, you would cap it off with a scenic battle against Razor Ruddock. Cantona was one of the most prolific and charismatic players to have graced the Theatre of Dreams. He was always been famished for goals and in the big matches, he got even better. Also, you would not want to mess with him because he still proudly defends his kung-fu kick against the Crystal Palace fan.
Mark Hughes and Manchester United was a match made in heaven. No matter how sublime he was, he couldn't find his footing for Barcelona and Bayern Munich. However, when he returned to the Theatre of Dreams for his second spell, he was even more ferocious and hungrier for goals. His first spell at the club saw him firing 37 goals from 89 matches, while his return saw him bashing 83 goals from 256 appearances.
Honourable Mentions:
Dwight Yorke, Andy Cole, Teddy Sheringham and Bryan Robson