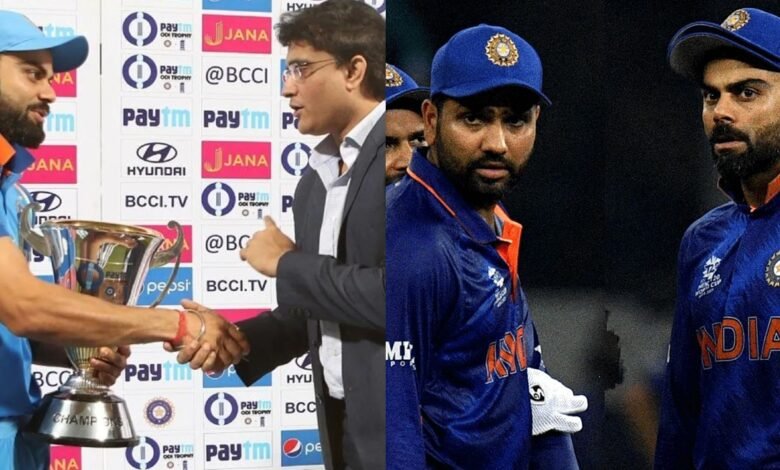 The BCCI president Sourav Ganguly has said that the board didn't have any plans to remove Virat Kohli as the white ball skipper of India. Ganguly revealed when Kohli informed the board that he wanted to leave the T20I captaincy, the board even requested him not to leave, but when he denied board's request and decided to leave the T20I captaincy, the selection committee thereafter felt it was not right to have two different captains for two limited-over sides.
This is a new development to the story as there were speculations earlier that BCCI itself wanted Kohli to leave the captaincy of both the limited over sides and since he refused to resign as the ODI captain, the board had no option, but to sack him.
However, if Ganguly is to be believed, the board had no role in Kohli's resignation as the T20I captain. It's a decision Kohli took himself, against the wishes of the board, and once he took that call, the selectors then took the further call of appointing his deputy Rohit Sharma as the full-time white-ball skipper.
Selectors considered the win percentage of Kohli, but Rohit's win percentage was also good: Sourav Ganguly
Sourav Ganguly admitted that Kohli's win percentage as an ODI captain was immensely high, and it was something that the selection committee considered, but Rohit Sharma had an equally high win percentage as well, in whatever number of ODIs he captained. The board was unanimous in its view that there should be one person in charge of both the limited over sides and since Rohit was seen as the best man for the job after Kohli, he was put in charge.
Meanwhile, the official Twitter handle of BCCI has posted a series of tweets thanking Virat Kohli for his services as India's ODI captain. The board was heavily criticised by the fans yesterday for not paying tribute to the outgoing skipper and simply announcing his removal with a tweet. Generally, there is a press release that comes with a big announcement, but with the biggest of announcements yesterday, there was no press release.
A leader who led the side with grit, passion & determination. 🇮🇳🔝

Thank you Captain @imVkohli!👏👏#TeamIndia pic.twitter.com/gz7r6KCuWF

— BCCI (@BCCI) December 9, 2021
However, the official handle of the board paid tribute to the outgoing skipper today, sharing some of his memorable moments in charge of India's 50-over side. A section of the Indian fans, however, is still very unhappy that the communication has not been clear around this whole saga and even if a leadership transition had to be made in white-ball cricket, it should have been made more smoothly by the board, with the utmost respect for the outgoing skipper.
A terrific knock in the chase that helped #TeamIndia 🇮🇳 to a convincing win against West Indies 👏👏

Relive that @imVkohli special from 2018 📽️👇

— BCCI (@BCCI) December 9, 2021