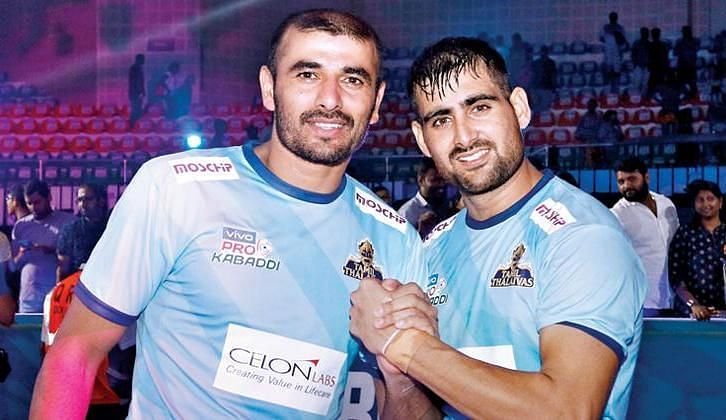 Former Indian kabaddi team captain Ajay Thakur has made the country proud with his sensational performances on the kabaddi mat. Thakur had played a pivotal role in India's Kabaddi World Cup win in 2016. Recently, he appeared on Pro Kabaddi's Instagram series titled Beyond The Mat – Season II, where he spoke about the skills that he would love to learn from other players. Specifically talking about Rahul Chaudhari, Ajay Thakur mentioned that he would love to learn his skill from raiding from both sides.
In case you did not know, Rahul Chaudhari is one of the most successful players in Pro Kabaddi League history. He has a lot of skills in his arsenal, but one of the unique abilities possessed by Chaudhari is to enter the opposition's court from either side of the mat.
The former Telugu Titans star can raid from the right side as well as the left side. Through this technique, he can target the weaker part of the opposition's defensive unit.
I like Rahul Chaudhari's ability to raid from both sides: Ajay Thakur
During the show, the host asked Ajay Thakur to participate in a Rapid Fire round. Ajay Thakur answered many interesting questions during that segment, and one of them was which skill would he like to learn from the other players.
Here's how Ajay Thakur responded when he was asked about his Tamil Thalaivas teammate Rahul Chaudhari and a few other Indian kabaddi stars:
"I like Rahul Chaudhari's ability to raid from both sides. From Dharmaraj Cheralathan's skillset, I would take power. I would take the all-round ability from Deepak Hooda. Lastly, I want my behavior to be like Anup Kumar."
Thus, through this way, Thakur listed down the qualities that he would love to inculcate from the other players in his playing style on the mat.