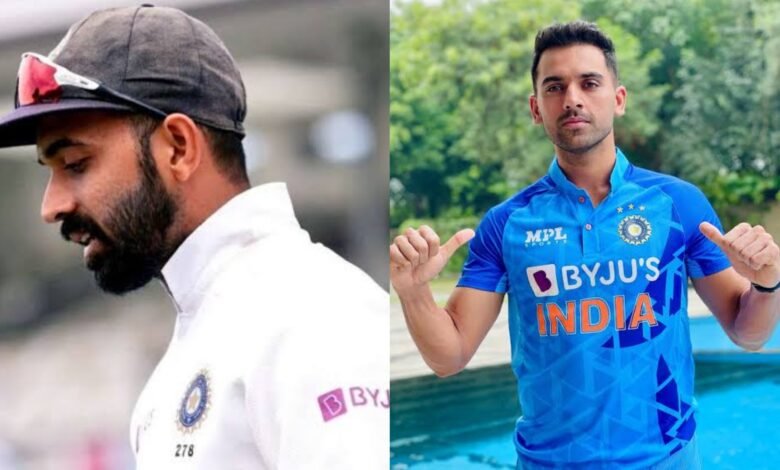 Like every other cricket board in the world, the BCCI announces central contracts annually for the Indian cricketers. These contracts are decided based upon the performances from the players in the last 12 months.
BCCI has formed four categories for the Indian cricketers. They are Grade A+, Grade A, Grade B and Grade C. Salary of Grade A+ is highest, which is 7 crore, and then there is a deduction of 2 crore in each category, with Grade C having a salary of 1 crore.
BCCI announces new lists for every season, and here's a list of seven names who were present in the 2021/22 list but are missing from 2022/23.
1. One of the top Indian cricketers – Ajinkya Rahane
Ajinkya Rahane was the vice-captain of India's Test team until 2021. KL Rahul replaced him after that as the selectors dropped Rahane owing to his poor form. The BCCI has also dropped him from the contracts list.
2. One of the top Indian cricketers – Ishant Sharma
Ishant Sharma is another veteran Indian player who was playing Tests regularly but is no longer a part of the team. Both Rahane and Sharma had 3 crore contracts in 2021/22.
3. One of the top Indian cricketers – Bhuvneshwar Kumar
Bhuvneshwar Kumar was a regular member of India's T20I squad and even played in ICC T20 World Cup 2022. However, BCCI did not retain him in Grade C category.
4. Wriddhiman Saha
Veteran Indian wicket-keeper batter Wriddhiman Saha was the back-up wicket-keeping option in Tests before KS Bharat replaced him. Saha was in Grade C in 2021/22, but he has missed out this year.
5. Mayank Agarwal
Mayank Agarwal is another cricketer who was playing in Tests but has been dropped now. Even the BCCI dropped him from the contracts list, where he was in Grade C last year.
6. Hanuma Vihari
Hanuma Vihari played a major role in India's journey to the WTC Final 2021. However, he has been absent from India's Test squad for recent matches. Vihari has lost his 1 crore contract now.
7. Deepak Chahar
The last name on the list is of all-rounder Deepak Chahar. He has been in and out of white-ball squads because of frequent injuries. BCCI did not give him a contract for 2022/23 season.