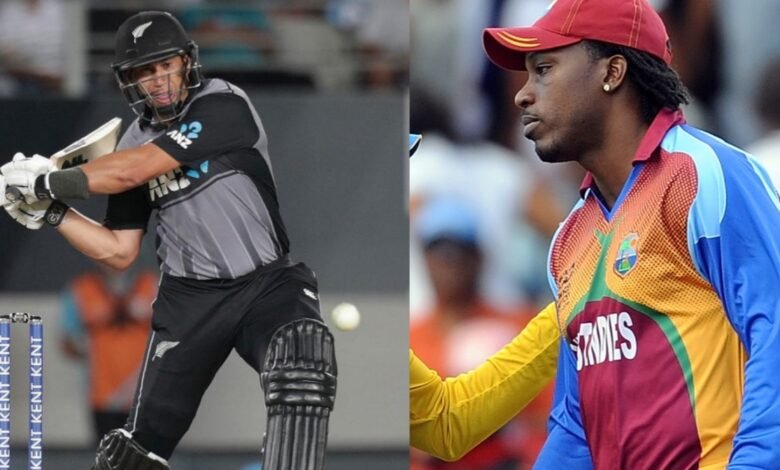 It's been two years since the last ICC white-ball tournament. But, the wait is almost over! The T20 World Cup tournament kickstarts on 17th October and all the international stars return to the field to win the coveted trophy. However, some of the stars whom we have grown up watching and admired might feature one last time in a T20 WC. We have studied all the teams in the competition and have our list ready. These players have humbly served their national teams for so many years and have become fan favourites across the world. In this article, we'll talk about 5 legends who might play their last T20 WC this year
1. Ross Taylor
When we talk about New Zealand cricket, it's a no-brainer to talk about a player like Ross. A legend in his own right, playing for NZ since 2006. Ross started his international cricket journey with the limited-overs format. Since then, he has been the fulcrum of the New Zealand batting order across formats.
A clean hitter of the cricket ball, he has been part of all T20 world cups (6) for NZ since inception. Despite his poor T20I stats, he's one of the feared batsmen at the crease. After winning the recently concluded World Test Championship final for NZ, Ross will look to end his career on a high by helping NZ win this T20I WC
2. Chris Gayle
If there's one cricketer who needs no introduction in the limited-overs format, it's Christopher Henry Gayle. Popularly known as 'Universe Boss'. Made his debut for West Indies back in 1999, Gayle has always been synonymous with power hitting.
The first player in history to cross 10000 runs in T20 cricket. Although Gayle has announced his retirement in Test cricket and ODI cricket, the Jamaican still enjoys playing the shortest format. Nearly 21 years into International cricket, The Boss will look to inspire the young Windies side to a 3rd T20I trophy before calling it a day!
3. Mohammed Hafeez
Pakistan cricket is blessed with some of the very good players till date. We generally talk highly about skillful bowlers from Pakistan, but batters are not far behind.
Hafeez is one such top batsman from Pakistan- popularly called 'The Professor' Hafeez made his debut back in 2003. He has played over 100 matches for Pakistan, scored 2400 runs, and counting. A decent strike rate of 120 and handy off-spin bowling, makes Hafeez a versatile cricketer. In all likelihood, this 2021 T20I world cup might be the last World cup for The Professor
4. Bhuvneshwar Kumar
Bhuvi, as he's called by fans across India, burst onto the scene in 2012. The swing bowling masterclass was on display when he rattled Pakistan's top order in his debut match. In the last 5-6 years, Bhuvi has been instrumental in India's success in the shortest format. His career bowling average of 25 and a better economy rate of just under 7 in T20I proves the above point. Although Bhuvi has age on his side, constant injuries has kept him away from action multiple times.
The high competition in the current Indian squad could mean an end to Bhuvi's T20I career after this T20 world cup. The likes of Jasprit Bumrah, Deepak Chahar, Mohammad Siraj, Mohammad Shami are ready for a long stint with the Indian team.
5. Moises Henriques
Moises Henriques is an Australian all-rounder who made his T20I debut in 2009. Unlike, the above 4 players, Henriques never enjoyed a long, consistent run in the Australian cricket team. His prowess in the T20 leagues across the world has always earned him a spot back in the national side.
He was recently featured in the Australian team that played a limited-overs series against the mighty Windies. The competition is high, but Moises might make it to the squad of Australia for T20I WC this year and look to end his international career on a high note.