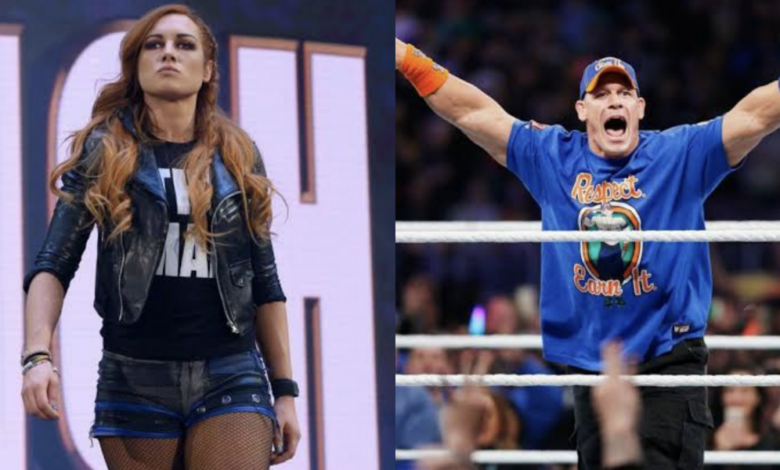 WWE Money in the Bank is the company's next pay-per-view. This PPV will not happen inside the Thunderdome. Live fans will return for this show. It will mark their full-time return. Actually, fans will first return at the SmackDown before MITB.
Some big returns are expected for this show. Apart from fans, some Superstars should also return. Every year, MITB has surprised the fans in a unique way. There can be some huge surprise this year. Speaking of MITB, here are five WWE Superstars who could return at the PPV.
1. Becky Lynch could return at Money in the Bank
Becky Lynch has been away from WWE for over a year. She appeared last on the RAW after MITB 2020. There, she announced her pregnancy and took a break from wrestling. Since then, she has been off TV. She seems ready for a return now.
Photos of her workouts have gone viral on social media. Becky can return at MITB after the RAW Women's title match at that show. Remember, Becky never lost her title. So, she can return after Rhea Ripley vs. Charlotte Flair culminates. Rhea vs. Becky could be an excellent feud.
2. Sasha Banks
Another female star who could return at MITB 2021 is Sasha Banks. She is a former SmackDown Women's Champion. Maybe, she can participate in 2021 MITB ladder match. WWE can announce three participants from SmackDown. They have already picked four from RAW.
So, the three from SmackDown could be Bayley, Liv Morgan and Carmella. The fourth spot can be kept vacant. The surprise could be revealed on the day of the PPV. It could be The Boss Sasha Banks. Perhaps, Banks can even win the MITB ladder match.
3. Brock Lesnar can make his big return to WWE at Money in the Bank
Brock Lesnar has not appeared after WrestleMania 36. He lost his WWE title to Drew McIntyre in his last match. Since then, he has been off TV. He has spent time with his family. His WWE contract has expired, but the company can sign him again.
Lesnar has always been a big draw for WWE. He can be a star attraction when fans return. Bobby Lashley will defend his WWE title against Kofi Kingston at MITB. Lesnar could return after that match. He could then start his rivalry with Lashley.
4. John Cena
John Cena is confirmed to return to WWE. The date is still unknown for his return. It can happen on SmackDown before MITB. Or, Cena can also return at the Money in the Bank pay-per-view only. He is most likely to face Roman Reigns at SummerSlam.
So, Cena can begin his program with The Tribal Chief at MITB. Cena vs. Roman can sell a lot of tickets. They are two of the biggest stars in pro wrestling right now. So, Cena's return is going to happen for sure. It will be interesting to see if he comes back at Money in the Bank.
5. Edge
WWE Hall of Famer Edge won the Royal Rumble 2021. He entered number one and stayed till end. Unfortunately, Edge could not win the Universal Championship at WrestleMania. Nevertheless, he is likely to return this year soon. His return can happen at MITB.
Edge is rumored to fight Seth Rollins at SummerSlam. So, this rivalry can begin at the Money in the Bank event. Rollins could be a part of the men's ladder match. He could reach close to briefcase before Edge would push him. Both Superstars have a backstory, so this rivalry will be very exciting.