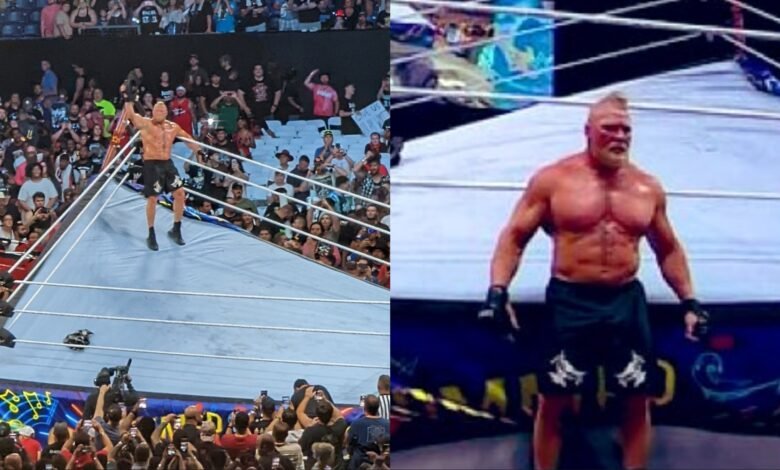 WWE SummerSlam 2022 Results are in the record books, and it was a tremendous show. The premium live event featured a variety of enjoyable things. Bayley returned along with NXT veteran Io Shirai (now Iyo Sky) and recently released Dakota Kai. Brock Lesnar brought a tractor to a wrestling fight, the ring was uprooted, and moments were created for years to come.
BROCK LESNAR JUST LIFTED UP THE WHOLE RING WITH A TRACTOR! @rasslin pic.twitter.com/A4L6kWOZWR

— Barstool Sports (@barstoolsports) July 31, 2022
Roman Reigns and Brock Lesnar went to war in one of the best Last Man Standing matches ever. They more made up for their subpar performances over the years against each other. Both of these superstars have been booked like gods in kayfabe, and this match reflected that. Reigns and Lesnar took heavy punishment from each other to create a chaotic masterpiece of a main event.
As expected, Roman Reigns won the match with a little help from the Usos. The real star of the match, however, was Brock Lesnar. He kept enduring the carnage he was put through by Reigns and got up on his feet countless of times. It took the entire Bloodline and the ringside debris to keep Brock down for the 10-count.
The aftermath of WWE SummerSlam 2022 results
In a video recorded after SummerSlam went off the air, Lesnar's seen making his way into the ring he destroyed. He went to the turnbuckle, put on his hat, and acknowledged the crowd. He then bowed to the audience and made his way to the back.
Brock Lesnar climbed into the broken ring after #SummerSlam was over. pic.twitter.com/V7O1XcU5P4

— Ryan Satin (@ryansatin) July 31, 2022
There were also reports that Brock Lesnar had left the building before SmackDown after being informed of Vince's retirement. So there's a good chance that we might have seen the last of Lesnar in the ring.
If it is indeed true, then this brutal match was a great way to top off a legendary career. The entrance with the tractor, F5-ing Paul Heyman and rest of the carnage feels like a definitive end to the feud, as well as the career of Brock Lesnar. Here's hoping that the 'Beast Incarnate' has some more years left in him. Check full WWE SummerSlam 2022 results here.