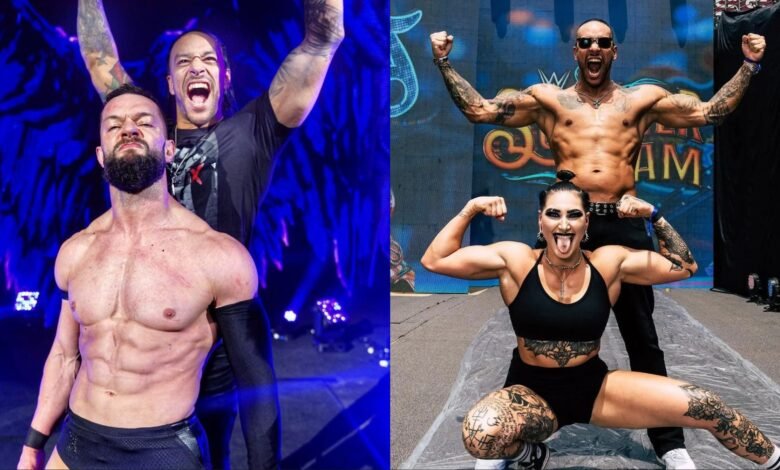 The Judgment Day resonates at the earliest with chaos, as the trifecta of Finn Balor, Rhea Ripley and Damian Priest has wreaked havoc in the WWE canon of late that saw them almost leveling the Mysterios at Summerslam before Edge equalled the numbers and speared Priest and Balor to avert the catastrophe for Rey and his son.
One of the most chaotic factions of the WWE, the Judgment Day was formed by Edge alongside Priest and Rhea Ripley. The R-Rated Superstar was eventually kicked out of the stable with the Prince coming in as a replacement.
Rise for @ArcherOfInfamy #WweCharleston #judgementday #wheresrhea pic.twitter.com/pt78C99Mt0

— Melissa ✡️ (@MelyssaRave) August 7, 2022
Here is what Damian Priest had to say about new recruits for the Judgement Day
In an interview with WrestleTalk, the Archer of Infamy expressed that he would like a couple of new recruits for the Judgement Day. He even had a couple of suggestions for the new inclusions that can make the trifecta into an indomitable faction.
The first name that Priest quoted was that of the Scottish Warrior, Drew McIntyre, quoting, "Off the top, hey he's in the main event of Clash – Drew McIntyre joining The Judgment Day would be fantastic. We were trying to recruit AJ (Styles) for the longest, but that's real."
@RheaRipley_WWE
🔥 #JudgementDay ⚖️ pic.twitter.com/mb9m51qNjV

— Kim (@kimberlasskick) August 6, 2022
The Scottish Warrior's next big match in the company will witness him locking horns against the mighty Tribal Chief, Roman Reigns. With too many ingredients in the broth already, WWE would be hoping to cut a clear story for McIntyre.
Vince Russo had a word of two about who would be walking away with the belt around his waist at the Clash at the Castle. During an interview with Sportskeeda Wrestling, Russo was clear about the fact that no matter the great fighter that Drew is, Reigns is altogether in a different league of his own and it isn't easy to bring him down from the mantle.