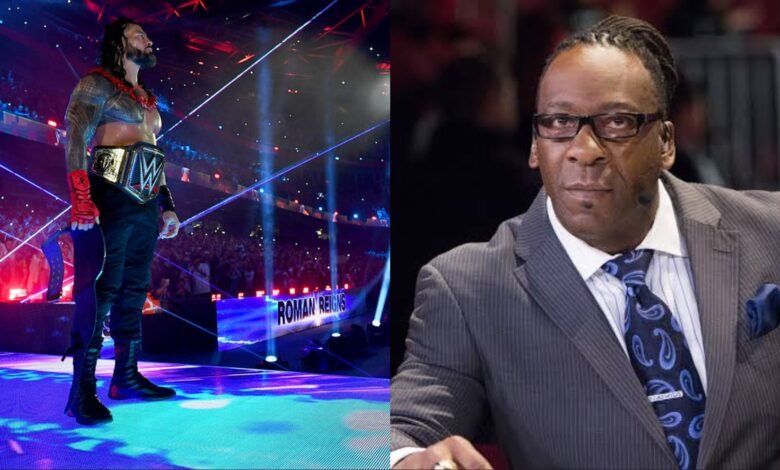 Hall Of Famer Booker T chose Roman Reigns to retain his Undisputed titles against Drew McIntyre at WWE Clash At The Castle 2022. Many fans and experts felt it was finally McIntyre's moment to dethrone Reigns, but it did not happen.
On his Hall Of Fame YouTube show, the five-time WCW Champion said that although McIntyre was in his backyard at Cardiff and it would have been great for him to win the titles, Roman is the strongest character on the show and is on another level right now. It wouldn't be wise for him to lose and rebuild all the good work he has done so far.
Booker T on ALL OUT and CLASH AT THE CASTLE https://t.co/mHN1Etc3vk

— Booker T. Huffman (@BookerT5x) September 1, 2022
Why Roman Reigns defeating Drew McIntyre at Clash at the Castle 2022 made sense?
Sharing his thoughts before the show, Booker T had said: "I just think right now Roman Reigns is on another level. He's doing some really, really, really good work. I don't think it's time for Roman to take a step back and have to rebuild all over again. I think Roman is the strongest character we have on the roster right now."
There were strong rumors that Drew McIntyre would be winning the titles in front of his countrymen and getting a chance a complete champion unlike last time when he was the champ during the pandemic at the Thunderdome and never got to perform in front of a live audience.
#AndStill @WWERomanReigns continues to make history at #WWECastle! pic.twitter.com/mNcxE14Hgw

— WWE (@WWE) September 3, 2022
Roman had beaten McIntyre when they last met at Survivor Series 2020 and has been the champion for more than two years since winning the Universal championship at Payback in August 2020. He had defeated formidable opponents like The Fiend (Bray Wyatt) and Braun Strowman in a triple threat match back then too.
His only recorded loss came technically at the Royal Rumble against Seth Rollins due to a disqualification without the titles changing hands. He hasn't even been pinned for Nine Hundred plus days. He really seems to be in GOD mode, as he proclaims.