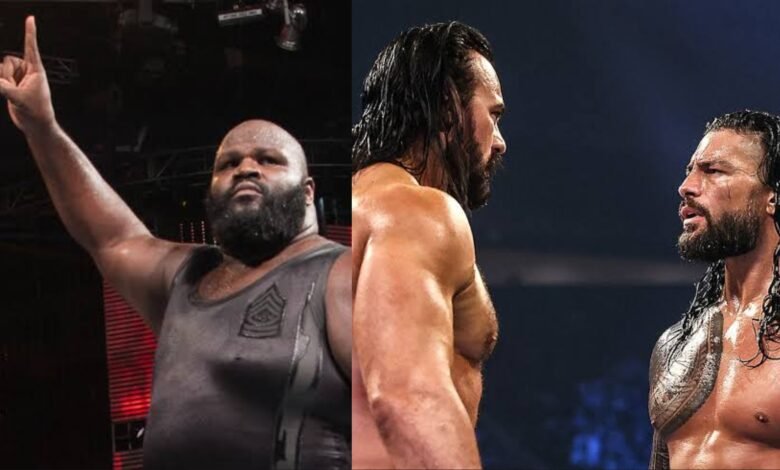 WWE Hall of Famer Mark Henry has shared his thoughts about the heated Roman Reigns vs Drew McIntyre feud. The Roman Reigns vs Drew McIntyre rivalry will peak when they finally meet in the ring at WWE Clash At The Castle on September 3.
In a recent appearance on the Busted Open podcast, Mark Henry said that Drew McIntyre got an unfair situation because his championship reign happened during the Covid era. He never got to defend the title in front of live crowds like Reigns did, making his reign somewhat mellow.
The World's Strongest Man said, "Drew McIntyre man, he got the rawest deal of rawest deals. He had the championship reign during COVID. And he didn't get to defend that title in front of fans like everybody else did. Why would he not feel like Roman don't deserve it because he don't defend it every week? Drew would have." 
Who will win Roman Reigns vs Drew McIntyre match at WWE Clash at the Castle 2022?
Drew McIntyre with some strong praise for Roman Reigns 🙌 pic.twitter.com/nFBWjxLboz

— WrestlingWorldCC (@WrestlingWCC) August 24, 2022
This week too on WWE SmackDown, Roman and Drew went at it in the ring with Drew having the best of Roman until Samy Zayn sacrificed himself to save the Head of the Table from a trip to Claymore country.
And let's not forget the menacing Karrion Kross who had brutally ambushed McIntyre to make a statement and issued a challenge to Reigns for his titles. He has been sending video messages every week to SmackDown. Will he have a role to play on September 3?
Roman Reigns & Drew Mcintyre Face to Face Tonight on #SmackDown pic.twitter.com/QpEMEP69vC

— 𝗔𝗻𝗶 (@UndisputedReign) August 19, 2022
The stakes will be sky high as McIntyre will be on his home ground with the home crowd firmly behind the Scotsman and if rumours are to be believed, there is a strong chance that the titles are changing hands at the premium live event. Therefore Henry's wish of seeing McIntyre as the defending champ might just come true.