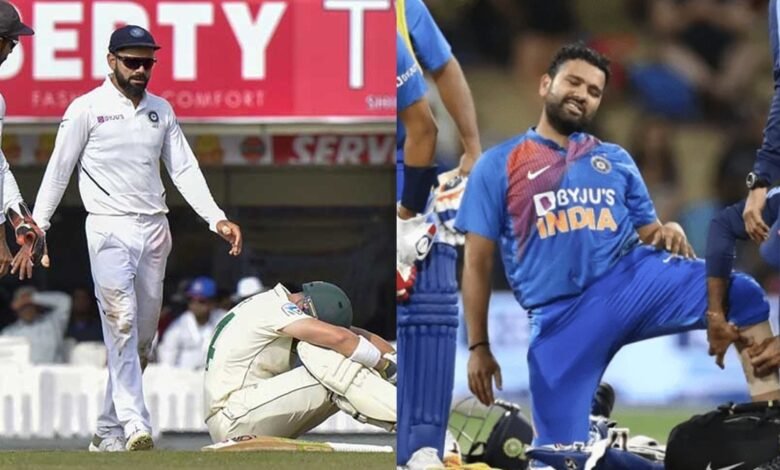 The game of cricket has a lot of complex terms that could leave the fans confused at times. Retired Out and Retired Hurt are two terms that the viewers usually get confused with. Here, we explain the terms retired out and retired hurt in the context of cricket.
What is retired out and retired hurt in cricket?
Rohit Sharma retired hurt in the second over, but India are on the charge in St Kitts 🔥

Watch #WIvIND for FREE on https://t.co/CPDKNxoJ9v (in select regions) 📺 | 📝 Scorecard: https://t.co/EI8Ehn8VCq pic.twitter.com/qxW7wd9Vg5

— ICC (@ICC) August 2, 2022
Retired Hurt is a simple term that means that a batter leaves the field due to various reasons, the most common of them being him/her getting injured by a bowler's delivery or any act on the field. In this scenario, the batter will be replaced by another batter who has not been dismissed yet. In most cases, retired hurt players come back to take part in the game depending on the context of the situation.
On the other hand, Retired Out is a tactical decision by the management or the players. It is common that some players, especially batters, may not always be in good form. The player may also not be suited to a particular situation. Here, the batter, without actually getting out or getting hurt, retires himself/herself. The next batter then takes up his/her place. The retired out batter will not be allowed to bat again.
Will 'retired out' become a mainstream tactic in T20s?
A first for the IPL! It had to be Ashwin 👌 #IPL2022 | #RRvLSG

👉 https://t.co/9l9MwZ2jJK pic.twitter.com/ByGc0yytd0

— ESPNcricinfo (@ESPNcricinfo) April 10, 2022
The term got popular in IPL 2022. R Ashwin is one cricketer who always makes good use of the rule book. Playing for the Rajasthan Royals, with a few balls to go for the end of the innings, Ashwin found himself in the crease. Since he is not best suited for the big hits and there were batters specialized at that, the Tamil Nadu man decided to retire himself out and allow the likes of Riyan Parag to come on the field.
Since then, this tactic has been used multiple times in various T20 leagues. T20 is evolving into a situation-based format and therefore, it is inevitable that we see this tactic being used a lot more in future.