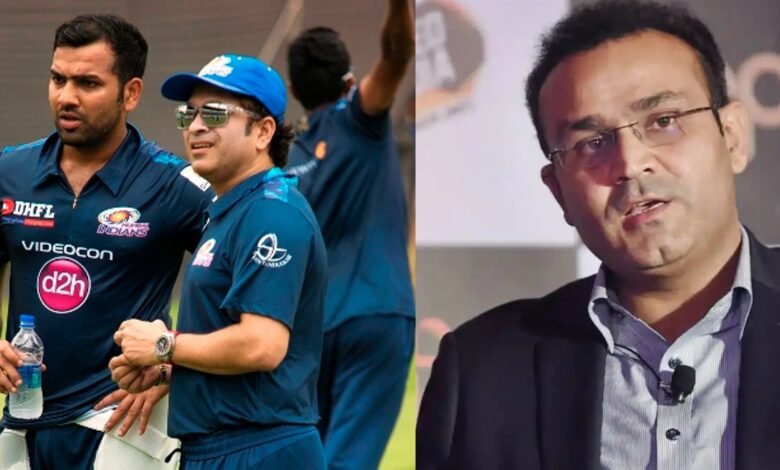 The former Indian opening batsman Virender Sehwag doesn't think that Hardik Pandya should be retained by Mumbai Indians ahead of IPL 2022 mega auction. According to Sehwag, Mumbai Indians' retention priority list should have the skipper Rohit Sharma, Jasprit Bumrah and the young left-hander Ishan Kishan as the first three choices.
The reason why Sehwag thinks Ishan Kishan should be retained ahead of Hardik Pandya is because of the fact that Hardik is not bowling much these days and hence, he probably doesn't bring as much value to the side as he used to bring earlier. Sehwag believes not only Mumbai Indians, but any team would think twice about Hardik in the mega auction simply because he is not bowling much.
Sehwag thinks Ishan Kishan has many more years to offer to Mumbai Indians
As far as Ishan is concerned, Sehwag opines that firstly Ishan is a young player and has many more years to offer to Mumbai Indians and secondly, he is someone who bats in the top order and hence, can score a lot of runs for the side as compared to Hardik who bats lower down the order. Because of these reasons, Ishan might be a better retention choice than Hardik.
"I think I would retain Ishan Kishan, Rohit Sharma, and Jasprit Bumrah. Ishan seems to be in it for the long haul, age is on his side, so he can serve you better. If Hardik Pandya doesn't bowl, I don't think he would be able to fetch big money at the auction because due to his injury concerns, everyone would think twice," Sehwag was quoted as saying by News 18.
Both Ishan and Hardik had a modest IPL in 2021, and it reflected in Mumbai's overall performance as well, as they couldn't even qualify to the playoffs. But just when the league phase of the tournament was about to finish, Ishan seemed to regain his touch and played two back to back extraordinary knocks against Rajasthan Royals and Sunrisers Hyderabad to win Mumbai both those games.