Cricket
IPL
IPL 2022
News
Uncategorized
"Virat Kohli's front foot commitment causing problems for him," observes Sanjay Manjrekar after former RCB skipper struggled in IPL 2022
Virat Kohli could score just 7 runs in the second qualifier of IPL 2022 in Ahmedabad yesterday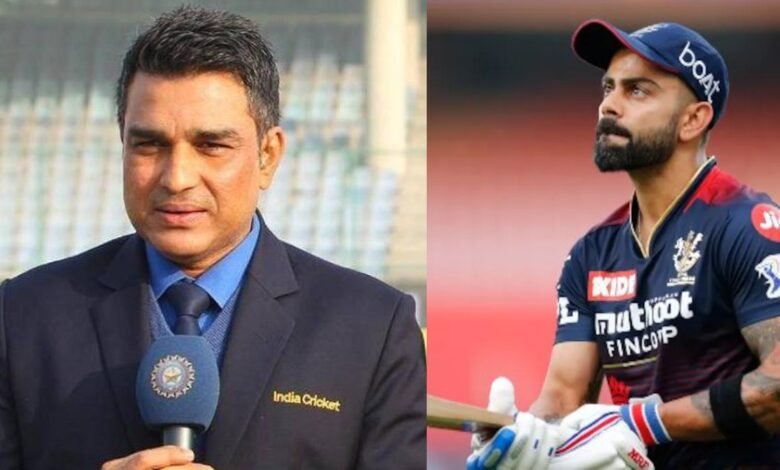 The renowned cricket pundit and one of the former India internationals, Sanjay Manjrekar, has made an interesting observation about Virat Kohli's batting. Manjrekar reckons that it's because of Virat Kohli's tendency to always try and commit himself on the front foot that he often gets out to outside the off stump deliveries.
While Virat Kohli is a modern great, one slight chunk in his armory, which can be easily noticed, is the fact that he gets out edging the ball to the keeper and the slips too often and according to Sanjay Manjrekar, it happens because he is a predominantly front foot player.
Manjrekar is of the view that Virat Kohli has played like that throughout his career and his mental strength has helped him come a long way even with that predominantly front foot game in different conditions, but the fact that he is always committing on the front foot, no matter what, is a technical flaw and it can't be ignored forever.
Sanjay Manjrekar thinks Virat was dismissed by Prasidh Krishna because he was committed on the front foot again
Citing the example of Virat's dismissal in the second qualifier of the ongoing IPL 2022 where Virat edged Prasidh Krishna behind the stumps once again, Manjrekar tweeted that Virat's predominant front foot game had a role to play in that dismissal as well.
Sanjay Manjrekar insisted that it was not a fuller length delivery that Virat could have played it off the front foot, it was pitched short of good length and was rising. There was no chance it could have been played off the front foot, but Virat was committed on the front foot and he tried to poke at it which resulted in his dismissal.
Virat wanting to be on the front foot no matter what is not helping his cause. Mental toughness takes you far sure, but technical issues cannot be ignored completely. Crunch game.. front foot to a short of length bouncing ball cost him his wicket again.

— Sanjay Manjrekar (@sanjaymanjrekar) May 27, 2022
Virat Kohli was dismissed by the New Zealand fast bowler Kyle Jamieson in the exact same manner in the final of the World Test Championship (WTC) as well at Lord's cricket ground last year.