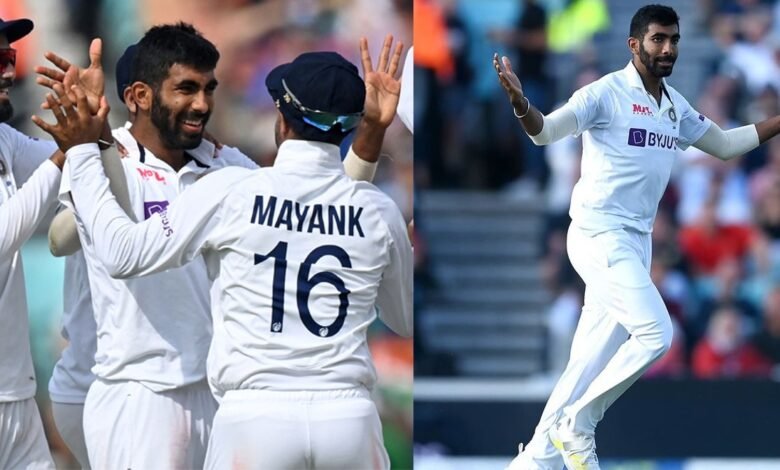 Bumrah and his brilliance: India was always used to being rattled inside out by towering and monstrous fast bowlers. It felt like a dream to be at the other end of the screen, idolising McGrath, Akram, Vaas, Gough and other illustrious virtuosos of the art.
However, India sat with their hopes held tight and after ages if waiting, they got an express train in their ranks too. We are referring to the tormentor-in-chief of England, Jasprit Bumrah.
The milestone achieved by Bumrah
Bumrah broke a 41-year-old record of Kapil Dev, becoming the fastest Test bowler for India to achieve 100 wickets.
Kapil Dev secured the feat in 25 Test matches while Bumrah claimed it from 24 Tests as he ran roughshod over England with a couple of blitzers breaking their spine in scintillating fashion.
The carnage by Bumrah at the Oval
His 100th and 101st Test wicket came in the form of Ollie Pope and Jonny Bairstow, who got castled in identical manner. Bumrah rattled their timbre with a couple of inswinging yorkers that barreled through their defences and clicked the stumps.
He continued with his carnage as he sent Root and Woakes chilling with a couple of menacing in-swingers though the duo survived the heat.
India started the last day of the Test match with relatively moderate success as they faike to break the opening pair. It was Shardul Thakur who got the much-needed breakthrough by removing Burns. The following session bred chaos for England as Bumrah and Jadeja wreaked havoc with 4 wickets for 19 runs.
Indians could barely contain their excitement as Bumrah achieved this historic feat at the Oval. Twitter flooded with congratulatory messages and coupled with their euphoria about India's rollicking dominance on the fifth Test, Twitteratti deluged the micro-blogging website.
Stump Tod… Bumrah is a beast.
Kya spell hai… Terrific

— Virender Sehwag (@virendersehwag) September 6, 2021
This really is incredible bowling by @Jaspritbumrah93 !! Test cricket bowling at its best … India about to go 2-1 up … #ENGvIND

— Michael Vaughan (@MichaelVaughan) September 6, 2021
Watching Steyn for South Africa early in the days and hearing so much about McGrath, always wished India have a bowler like them one day. Seeing Jasprit Bumrah bowl, my wish seems to be completed.

— Mufaddal Vohra (@mufaddal_vohra) September 6, 2021
Bumrah's best 🎯 pic.twitter.com/XVsWkHH0IG

— ESPNcricinfo (@ESPNcricinfo) September 6, 2021
Took this great photo earlier of Joe Root – 6 Test hundreds and an average of 68.42 in 2021 – keeping out Jasprit Bumrah's yorkers #EngvInd pic.twitter.com/VDIVOdA681

— Vithushan Ehantharajah (@Vitu_E) September 6, 2021
Jasprit Bumrah becomes the fastest Indian pacer to reach 100 Test wickets, in just 24 matches.

An Indian claimed his "record 100th" on Day-5 of Oval Test, ten years after another Indian closely missed his "record 100th" on Day-5 of Oval Test. #ENGvIND

— Kausthub Gudipati (@kaustats) September 6, 2021
100 Test wickets for Jasprit Bumrah 🔥

He has removed Ollie Pope for 2!#WTC23 | #ENGvIND | https://t.co/zRhnFiKhzZ pic.twitter.com/xiTfcm6niU

— ICC (@ICC) September 6, 2021
Jasprit Bumrah's 100th Test wicket:pic.twitter.com/XHfGdV1cJz

— CricketNext (@cricketnext) September 6, 2021
Well done @Jaspritbumrah93 on your 100th test wicket. Loongggggggg way to go mate. Keep making us proud!

— Irfan Pathan (@IrfanPathan) September 6, 2021
💯

What a way to reach the milestone! @Jaspritbumrah93 bowls a beauty as Pope is bowled. Among Indian pacers, he is the quickest to reach the mark of 100 Test wickets. 🔥https://t.co/OOZebPnBZU #TeamIndia #ENGvIND pic.twitter.com/MZFSFQkONB

— BCCI (@BCCI) September 6, 2021